Perhaps one of the best kept secrets in Lehigh Valley is the Valley Preferred Cycling Center. Located on the western side of the region in Trexlertown, this venue is home to world-class races right here in your own backyard.
Known internationally as T-town, the Valley Preferred Cycling Center offers a variety of bicycle races from amateur, to professional, and even lessons for the community. But these aren't just any old person off the streets racing here at T-town - you'll find past, present, and future Olympians here.
In fact, the venue is run by Marty Nothstein, a former Olympic champion.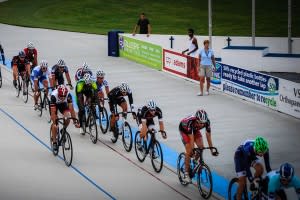 Nothstein was born and raised in the region, and now maintains the facility that trains outstanding, young talent. In fact, Matt Baranoski, a native of Perkasie, will be joining Team U.S.A. in the Rio de Janeiro Olympics in summer 2016. (We even got to interview Matt in our visit to the Velodrome - check out the video below!)
But did you know these facts about track racing? Be sure to check out our Live Like a Local series where we visited Marty Nothstein at the Velodrome!
The turns at the Veldrome are banked at 28 degrees, allowing the riders gain speed as they come out of turns.
Because of the shape of the track, the facility is sometimes referred to as the 'concrete crater.'
The bikes that the racers ride don't have brakes!
VeloFest, the largest cycling marketplace in the country, is held twice a year at T-town.
Spectators can enjoy races at the Veldrome throughout the summer months. Enjoy the Fuji Pro-Am Racing Series on Tuesday evenings, and the World Series of Bicycling on Friday evenings. Free parking is available on site. For more details, be sure to check out their website.
[youtube]https://www.youtube.com/watch?v=VOyTSrIkqEY[/youtube]