---
Please note, the last day for Dutch Spring's Aqua & Aerial Parks is August 20, 2021. Scuba Diving is available thru November 14, 2021 and on New Year's Eve Day!
---
When the summer rolls around, there's no better way to cool off than by jumping in the water. But pools can get boring after a while. Round up your crew and head to Dutch Springs to make a splash in your summer fun.
Situated just outside of Bethlehem, this manmade lake is home to not one, but three ways to spend your days in the water, below the surface, and even up in the air.
The Aqua Park offers fun for kids big and small. Don a life vest and get ready for a fun afternoon of climbing, sliding, and jumping off the inflatables on the surface of the lake. Put those muscles to work as you climb up to the top of the Iceberg. Or, go for a slide down from the top of the Summit. Try your hand at the obstacle course-style Wibit, or send your friends flying into the water from the Aqua Jump.
For those looking for a chance to relax, you'll find plenty of lounge chairs at the lake's edge, perfect for taking in some sun or just taking a break from the water.
If you're looking to dive a bit deeper (literally), you'll want to check out Dutch Springs Discover Scuba program.
[caption id="attachment_45808" align="alignright" width="300"]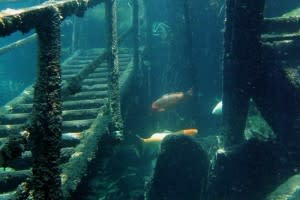 Dutch Springs is the largest freshwater scuba diving facility.[/caption]
Recognized as one of the top scuba diving destinations in the country, thousands flock here to receive their certification. Because the lake is spring-fed through layers of limestone, you'll find unbeatable levels of visibility. Within the lake, you'll find a variety of diving platforms to explore plus submerged vehicles, aircraft, and other unique sites to explore - plus some fish friends, too!
Dutch Springs offers a variety of diving packages catering to every level, novice through advance.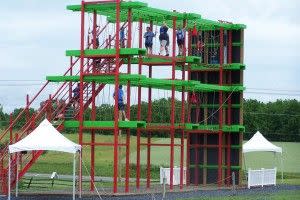 When you've had your fill of the water, head to the front of the park to take your fun to new heights. The Sky Challenge is a multi-level ropes challenge that will test your skills, and your fear of heights. Once you tackle the skills on the ropes, head to the two-story rock wall to see if you can make it to the top.
Dutch Springs offers group rates, and even campsites if you're looking to turn your experience into a weekend of fun. For more details, check out their website.
[youtube]https://www.youtube.com/watch?v=S6sDaYdV9W8[/youtube]