Looking for a high energy, one-hour production designed to actively allow children ages four to 10 to experience Shakespeare's vibrant language and characters? Then you must visit Pennsylvania Shakespeare Festival's Shakespeare for Kids (S4K). S4K has been created to activate the young one's imaginations and generate laughs for the whole family. Team Shakespeare is currently introducing children to the magic and mischief of the kid-friendliest of characters and situations from Shakespeare's A Midsummer Night's Dream.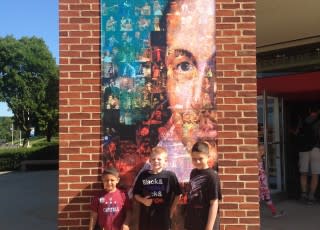 My wonderful neighbor, friend, mother, daughter, wife, aunt, first grade teacher in the Salisbury School District, and now blogger, Christina Attar took her two sons, George (age 9) and Anthony (age 6), along with my son Noah (age 9), today to see S4K's aforementioned Shakespeare's A Midsummer Night's Dream. Here is her review that hopefully inspires you to get your children to the campus of DeSales University to check out the production for yourself.
Shakespeare for Kids' production of A Midsummer Night's Dream is a fun introduction to Shakespeare. It involves magic, fairies, and lots of action. It was a lively one-hour production designed for children. George, Anthony and Noah loved the play due to the Team Shakespeare Cast! The cast was made up of three members who were very interactive with the children for the entire 60-minute play. They went over the plot with the audience with an easel chart filled with pages of artistic designs to explain the story.
After each scene, the cast recapped the scene with a summary of what had just occurred with a fun sing along or dance (The Hokey Pokey) in which the audience echoed and sang along. This was a great strategy to keep the children engaged and allow them to fully understand the plot. The cast members also had a "Word of the Day" in which every time the cast said the word, the audience would have to scream and have fun! The cast also invited three volunteers from the audience on stage to help act out a part of the play's final scene.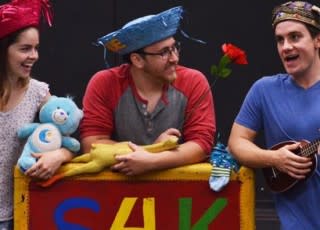 For those that may be unfamiliar with this Shakespearean classic, the story unfolds as follows: The Duke of Athens, Theseus, and Hippolyta are getting ready for their wedding, when Egeus arrives with his daughter Hermia, who is in love with Lysander. Egeus wants Hermia to marry Demetrius (who Helena loves). Theseus demands that Egeus must have his way, and gives Hermia a month to marry Demetrius, or suffer the consequences. Hermia and Lysander decide to run away and meet in the forest. Hermia tells Helena of their plans, and in turn she tells Demetrius, hoping that he will like her more for telling him of the plan. Demetrius chases after the fleeing couple, and Helena chases after him.
In a parallel plot line, Oberon and Titania, the king and queen of the fairies, are arguing over whom should have control over a changeling boy that Titania has stolen. Titania will not give him up, so Oberon takes his revenge by having his servant Puck find a special flower whose juice he will squeeze onto Titania's eyes while she is asleep. This will make her fall in love with the first person she sees upon waking. Oberon, seeing Demetrius reject Helena, tells Puck to put the potion on Demetrius' eyes too. Puck mistakes Lysander for Demetrius, and Lysander awakes to see Helena, whom he then falls in love with and chases after.
The rustics begin their rehearsal near where Titania is sleeping. Puck gives Bottom a donkey. Bottom frightens his friends away, and in doing so wakes Titania. Titania falls in love with him, and Bottom is treated like a lord by the fairy advisers. Hermia, having lost Lysander, thinks Demetrius has killed him.
When he rejects it she goes to look for him. Oberon is upset with Puck for his mistake and tells him to find Helena and bring her to him. Oberon squeezes the flower onto Demetrius' eyes while he sleeps. Lysander enters with Helena, begging for her love, telling her Demetrius does not love her; Demetrius then wakes, sees Helena, and begs for her love. Hermia enters and is snubbed by Lysander, while Helena thinks all three are tricking her.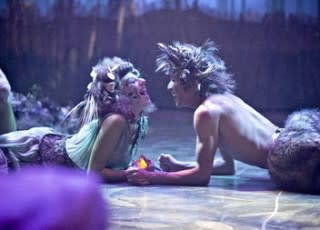 Puck puts an ointment on Lysander's eyes so that he continues his love for Hermia. Oberon then expels Titania's spell from her, having received the changeling boy from her. Puck removes the donkey from Bottom. Theseus and Hippolyta arrive in the forest, along with Egeus, where they find the sleeping mistresses. They hear their story, and Theseus decrees they will be married as they wish.
This play still incorporates Shakespearean language and the cast offers a wonderful translation of the language for the children to understand. I wholeheartedly recommend this play for children and their whole family. It will have the whole family laughing and is a great day out with the kids!
Whew! Did you get all that? In typical Shakespeare fashion, a crazy mixed up story of love and revenge. I'm certain by the time you leave the theater the whole story will be much easier to follow in person and the children will have a great day, as will you.
Thanks for the great recap Christina. For more details on S4K, check out their site by clicking here. Hurry as the play only lasts through August 1.
This page is based on the copyrighted PlayShakespeare.com article <put article name here>. Permission is granted to copy, distribute and/or modify this information under the terms of the GNU Free Documentation License, Version 1.3 or any later version published by the Free Software Foundation. Terms at http://www.playshakespeare.com/license.