Come and celebrate the 20th anniversary of the Chile Pepper Food Festival this Friday and Saturday. The largest festival of its kind in the United States, the Chile Pepper Food Festival is an annual event held in the William Delong Memorial Park in Bowers, PA, during the Friday and Saturday after Labor Day.
The festival runs from 9 a.m. to 6 p.m. each day, and is filled with vendors, arts, crafts, food, a jalapeño pepper eating contest, a Chile pepper song contest, entertainment, music, multitude of cuisine options, and sights to indulge in, there really is something for everyone to enjoy.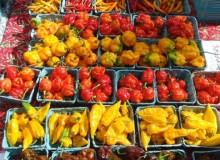 As you enter the festival you will be overcome by a pleasant assault on the senses, as a wave of mingling smells permeate the air. With so much to see right out of the gate, don't get overwhelmed by the choice of options. You will find a winding trail of vendors as far as the eye can see with an abundance of pepper-based foods, including condiments, pickles, and even ghost pepper ice cream.
As you investigate the various stands, make sure you help yourselves to the seemingly-endless varieties of salsa and hot sauces. And, make sure you keep an eye out for the Annual Jalapeño Eating Contest which always draws a large crowd. Who doesn't enjoy seeing contestants try and outdo one another eating hot peppers?
For those with a more delicate palate, don't worry there are plenty of not-so-hot foods and beverages available, including hot dogs, hamburgers, soup, and an old fashioned soda wagon which is usually stationed near the end of the trail. Make sure to try their raspberry cream soda.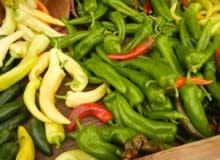 Save time for a wagon ride to Meadowview Farms for a Chile pepper field excursion. This unique opportunity allows you to pick peppers from an impressive collection of pepper plants.
The Chile Pepper Food Festival is an enjoyable outing for families and foodies alike, and once you visit it will be easy to see why its popularity has endured. So see you this weekend as I'll be sure to be getting my burn on!