Whether you're looking for a youth experience packed with adventure or one that is a little more low key, Lehigh Valley has so many attractions that can fit any group.
Dorney Park & Wildwater Kingdom is a world of fun and thrills for all ages: adrenaline-pumping coasters and thrill rides galore at Dorney Park; dozens of water slides at Wildwater Kingdom, two giant wave pools, and four water play lands for kids; and the lovable PEANUTS™ gang and 16 rides just for kids and parents in Planet Snoopy. Step back in time with Dorney Park's Dinosaurs Alive!, featuring more than 30 life-size animatronic dinosaurs. For more information on Dorney Park & Wildwater Kingdom, please visit DorneyPark.com.
If you are looking to bring science to life, then Da Vinci Science Center has you covered. With tons of interactive exhibits, Da Vinci Science Center inspires young minds while engaging children in a way that they will thoroughly enjoy. They offer guided tours around the exhibit floor, and professional educators lead hands-on workshops. For more information on Da Vinci Science Center, please visit DaVinciScienceCenter.org.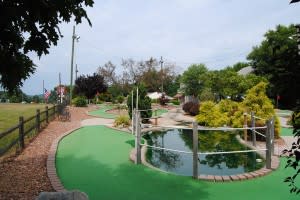 Another great stop for youth groups in Lehigh Valley is Putt U. Voted "Best of the Valley" by a local Lehigh Valley publication more than 30 times, this is a miniature golf experience beyond all others. Featuring two full 18-hole miniature golf courses, these courses are like none you've played before. Don't forget to enjoy a scoop of Leiby's premium, hand-scooped ice cream at the turn. For more information on Putt U, please visit PuttU.com.
Perhaps golf isn't your group's game. Don't worry – RevolutionsTM Bethlehem boasts 40,000 square feet of fun for everyone, including 20 boutique bowling lanes and a full redemption arcade with more than 45 games. This truly has something for every child in the group. For more information on Revolutions, please visit Bethlehem.RevolutionsBowl.com.
Where is the temperature always 52 degrees Fahrenheit? Give up? Answer: Lost River Caverns. Children are sure to love this adventure through nature's underground wonderland. This guided walking tour lasts approximately 45 minutes and covers 1,200 feet of paved walkways that are well lighted. Don't forget your camera and walking shoes! For more information on Lost River Caverns, please visit LostCave.com.
For additional information on Lehigh Valley attractions that are student-friendly, please visit DiscoverLehighValleyGroups.com or give Marc a call at 1-800-MEET-HERE.