Let's be honest, from Thanksgiving through New Years and every day in between, there are parties and get togethers for families, friends and businesses, and they all revolve around food. There are also lists for gifts and groceries and things to fix before the family comes by. I'm going to give you some of the most popular food lists we've ever written all in one place, because it seems like a great idea. Here are 10 in no particular order, that seem helpful for the holiday season:
[caption id="attachment_14961" align="alignleft" width="220"]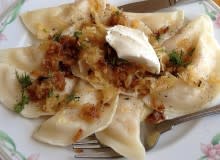 Black Forest Deli Pierogies[/caption]
We love pierogies in Lehigh Valley. They may not be our absolute favorite food of all time, but they are on the list. Kaitie presented her Top Five Pierogies in Lehigh Valley a few months back and you can't disagree with her list. Of course, you can add to her list, because there are many more than five places in Lehigh Valley to get pierogies. Great pierogies determined in the mouth of the eater, just like the next list of food... pizza. A slice, a pie, a pan, we can quabble over little semantics, but pizza is a staple food. The Top 10 Lehigh Valley Pizza Places, isn't as light an argument as the one for pierogies, when it comes to pizza, everyone seems to already have their favorite and how dare you dis theirs. Only, here is the thing I would like everyone to remember, because I like my pizza place better, doesn't mean your favorite pizza place is bad. It's all about preference and with what seems like hundreds of options to choose from, our list of 10 is just a start. If anyone out there needs pizza for a holiday gathering, you won't have to look far and you probably won't be disappointed.
[caption id="attachment_2751" align="alignright" width="220"]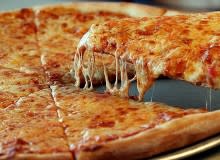 Everyone has an opinion on pizza[/caption]
What goes great with pizza? Wings. And yes, just like with pizza there are plenty of places to get great wings, so our list of the Top Five Places to Get Wings in Lehigh Valley isn't all encompassing. It is more of a guidebook. You can choose to try any of those five places or you can go somewhere else. Let's face it, there are plenty of options when it comes to getting wings. And like almost everything else I have or will list, it all comes down to personal preference. Perhaps you are in the mood for a good deli sandwich. We have a list of the Top Five Places for Deli Sandwiches in Lehigh Valley. But again, this is all about your personal taste. Lehigh Valley is full of delis and bodegas, which will delight your tastebuds with various meats and cheeses, dressings, spices and breads. We are not Philadelphia, but there are plenty of options for cheesesteaks, as well, and yes we have a Top 5 Lehigh Valley Cheesesteaks, although it was written before Tony Luke's opened up in Allentown, so we may have to revisit the sandwich of steak and cheese yet again.
[caption id="attachment_14451" align="alignleft" width="220"]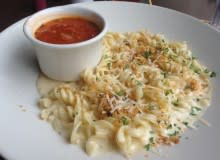 Brew Works Mac & Cheese[/caption]
Maybe you're a cheesehead, not in the vein of a Green Bay Packers fan, but in the form of one who loves cheese. If that is the case, we have a Top Five Places to Order Mac & Cheese in Lehigh Valley. Like the rest of this list, this is only based on what we have tried, but I know Kaitie, our resident mac & cheesehead, has a list of more places to go try. And we're not talking about your grandmother's mac & cheese unless, she fries them up in balls or adds meat to her recipe. Even still, you should go out and try these anyway. What about dessert? We've got that covered too, with the Top Five Cupcake Bakeries in Lehigh Valley. Now, all of these bakeries have other options and most importantly, they all have various sweet delights, that make up their own various selections. From simple chocolate and vanilla to more exotic flavors, they'll take care of your sweet tooth and you don't even have to wait until dessert. Seriously, we won't judge, we've been known to eat cupcakes for breakfast at the office, so we're just like you. Cupcakes? Yes, please.
[caption id="attachment_20002" align="alignright" width="220"]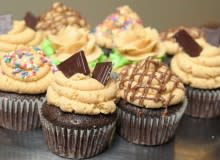 Sweet Girlz Cupcakes[/caption]
There is nothing better paired with cupcakes than a good cup of coffee, at least in my humble opinion. Seriously, it makes the best breakfast, because how far away can cupcakes be from the similarly named pancakes? Anyway for the caffeine addicts out there, we have compiled the Top Five Lehigh Valley Places to Grab a Great Cup of Coffee. From Allentown to Easton and everywhere in between, Lehigh Valley has more than enough options for that start me up cup 'o Joe, even if you need it at 3 p.m. But maybe your cupcake combination is not with coffee, but with ice cream. Then we have you covered as well, with the Top Five Ice Cream Stops in Lehigh Valley. And this doesn't cover the Shoppes at Hotel Bethlehem, which is an easy addition to the list. But then we'd have to bump someone off, so I suspect the next list would be a Top 10, if anyone in our office is going to do the very hard research of having to try all the Lehigh Valley ice cream shops.
[caption id="attachment_21228" align="alignleft" width="220"]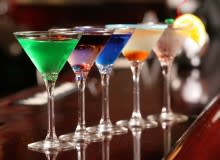 Happy hour anyone?[/caption]
What could possibly be missing from this list? Well, with our very own Wine Trail and Ale Trail, we should definitely include the Top Five Lehigh Valley Happy Hours by Day of the Week. Now, in full disclosure, I'm sure the holidays will have a slight effect on these, but you can still stop by after a day of shopping, after all you deserve it. So there you have it, The Ten, a list of the lists we have about food, drink and dessert in Lehigh Valley. Enjoy, and maybe make your own. It's fun to collect all of the delicious information as you go from one place to another.