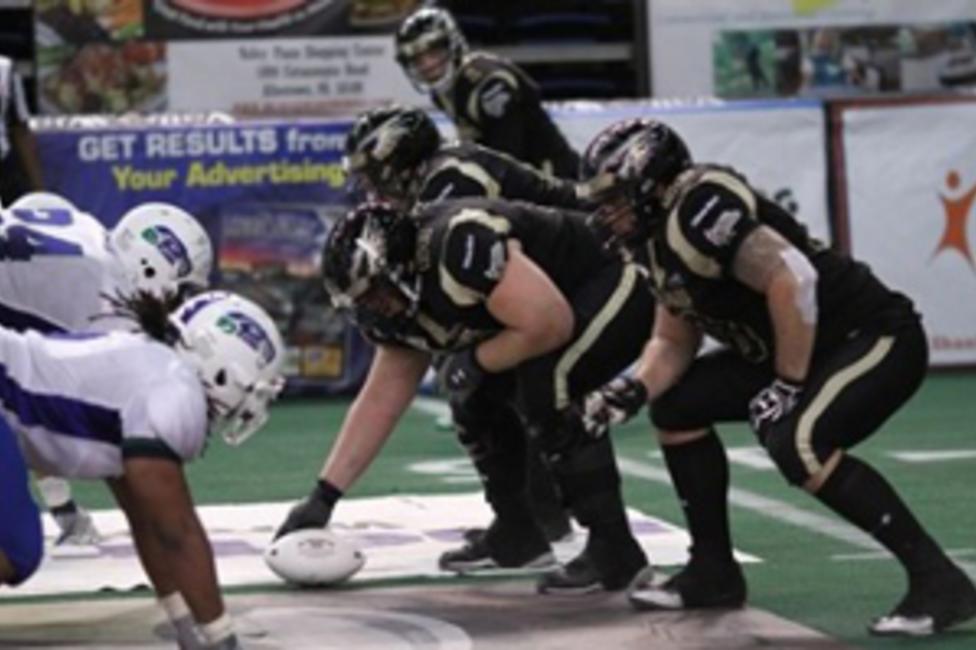 If you're a sports fan, I'm sure you're concentrated on March Madness this time of year, or maybe even spring training for baseball season.  But if you're like me, you're missing football season just a tiny bit.
Did you know there's a remedy for the off-season blues right here in Lehigh Valley?  In their third season at Stabler Arena, you'll find the Lehigh Valley Steelhawks- a part of the Professional Indoor Football League.
The team's first home game was this past Sunday- and it was a ton of fun!  If you've never been out for a game, it's definitely something the whole family can enjoy.  You'll find giveaways at the front gates, deals on food, entertainment, and even on-field activities in addition to a great game of football. During pre-game and halftime activities, you can also see the Precious Metal Dance Team perform, which I've had the pleasure of being a part of this season!  After the game, fans have a chance to come down onto the field and pose for a picture with the players, dancers and even the mascot Talon!
In addition to the games at Stabler Arena, you can also find the Steelhawks out at Rascal's Food & Fun the Friday evening before every home game.  Come out and challenge us to a game of air hockey (I've got some pretty impressive skills) or hop on the bumper cars for a ride!  After all home games, we head over to celebrate at Roosevelt's 21st in Bethlehem.
I've had a great time being involved with the organization so far and love getting a chance to meet fans and help cheer the Steelhawks on to victory! Our next home game is April 20th against the Alabama Hammers, but if you want to catch the team before then, you can also grab a spot on the bus trip to watch the Steelhawks play in Richmond, VA!
During the game, you can find me and the other dancers handing out programs and freebies like t-shirts and thunder sticks at the front gate, performing at pre-game and halftime, and also helping out with on-field games for fans during time-outs. Be sure to stop by and say "hi" if you're out at a game!
Game day tickets start as low as $10, with season tickets starting as low as $48.  There are still five more opportunities to come out and cheer the Steelhawks onto victory- so pick up your tickets today!
[gallery ids="14549,14555,14554,14543,14550,14551,14544,14558,14546,14545,14548,14559"]