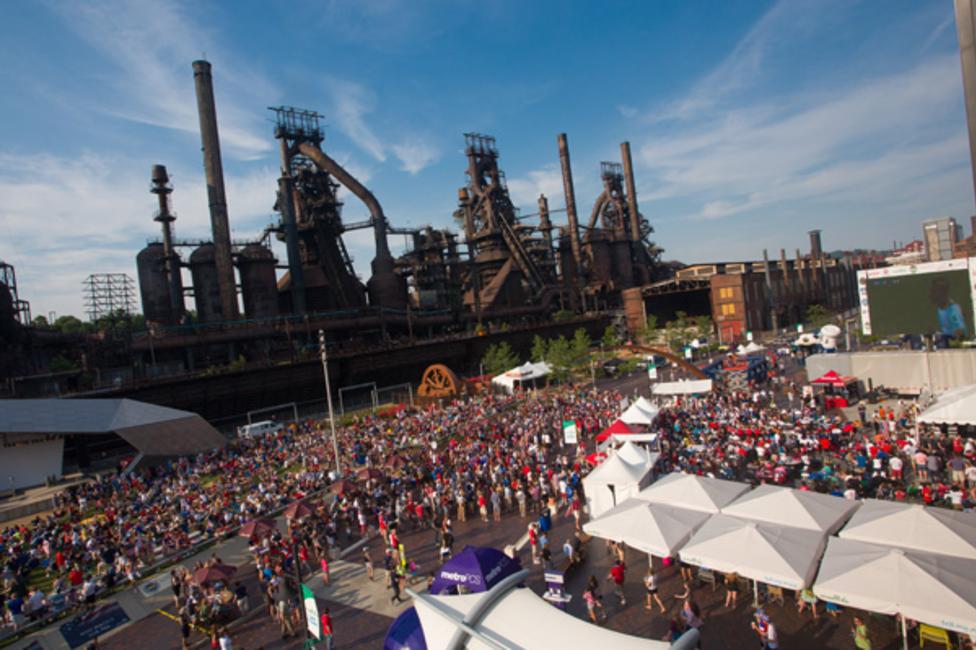 The grass in front of the Levitt Pavilion was green, the sky was blue, the Blast Furnaces of Bethlehem Steel stood in all their glory and below, on that grass and the concrete stood thousands of people decked out in red, white, and blue to cheer on the United States Men's National Team, as they battled in the Group of Death, Group G, during the 2014 FIFA World Cup.
It was the best place to watch the game if you couldn't travel to Brazil. That feeling of pride and the roars and emotions of the crowd is something that I will never forget, and it's something that the organizers of the 2014 Lehigh Valley Soccerfest are looking to recreate during the 2015 Women's World Cup, as the second Lehigh Valley Soccerfest will once again call the ArtsQuest Center at Steelstacks home in the summer of 2015.
The organizers are again working to become an official FIFA Viewing Party and I suspect the atmosphere will be just as memorable, if not more so. Why? Because unlike the US Men's National Team, the US Women's Team, isn't looking just to get out of their group, they're looking for the World Cup Title, and they're one of the favorites to do it.
Last year more than 50,000 fans descended upon SteelStacks for the Lehigh Valley SoccerFest, an event, which was named one of the "Best New Events" by the International Festivals & Events Association (IFEA).
Here in America, where in 1999 the Women's team captured their second title on home soil and solidified the stars of that team to fame, we're still looking for another World Cup Title. Those names, especially the five who took the Penalty Kicks to win it; Overbeck, Fawcett, Lilly, Hamm, and Chastain are legendary. Since that World Cup Win in 1999 there have been Olympic Gold Medals and Gold Cups and CONCACAF Championships, but the World Cup, the big one, that's something that the Women's National Team still hungers for.
So if you don't have plans to be in Canada for the World Cup, keep your schedule open to attend Lehigh Valley Soccerfest. All you need to do is find
As for the USWNT in Canada?one of the 50,000 people who where there last year, to understand just how great it was. Soccer is growing in America and Lehigh Valley Soccerfest is just a classic case of the founders putting a bulge in the old onion bag: GOOOOAAAAALLLLLLL!
I Believe That We Will Win!