As Henry David Thoreau stated, "This world is but a canvas to our imagination."
Lehigh Valley is a testament to this. It is brimming with talent that overflows from the confines of art studios and into the streets, adding color and intrigue to everyday objects. Here's a list of some fun outdoor artwork to check out.
Comfort Suites – Bethlehem's South Side
This is one of the newest installations in the Art District of South Side Bethlehem. The mural, by street artist Max Meano, now welcomes all visitors and residents as they exit the 378 (Hill-to-Hill) bridge.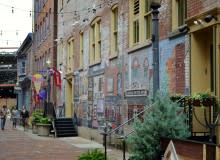 Bank Street – Easton's Historic Downtown
This alleyway is an explosion of mosaic art, vibrant colors, and whimsical sculptures. Be sure to take a look at the "No Evil" exhibit by Ellen Shaughnessy.
Wild Flower Café – Bethlehem's South Side
Although the Wildflower Café is permanently closed, there still remains a beautiful mosaic wall with floating music notes and giant sunflowers with mirrored centers. It is a little treasure which is nice to stumble upon.
SteelStacks™ – Bethlehem's South Side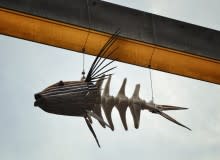 The SteelStacks™ Campus has some great pieces. One is the Romeo & Juliet exhibit which resembles tree trunks reaching their branches towards one another.
Other impressive pieces here are the glass-blown fish by Densaburo Oku which hang above the Visitor's Center.
The Banana Factory – Bethlehem's South Side
The Banana Factory recently hosted the Urban Street Art Festival, but outdoor artwork can always be found here from the sculptures by the parking lot, to mosaic pieces around back.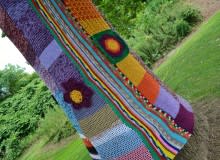 Yarn Bombing – The Knitter's Edge (no static location)
Yarn bombing is a popular event at area festivals, especially Musikfest - which is coming up!
The Knitter's Edge, a local yarn shop, also hosts instructional classes, and sponsors these events. To check out some yarn bombing, head to the Handwerkplatz during Musikfest.
Lehigh University's Sculpture Garden – Bethlehem's South Side
To outsiders, this outdoor artwork sadly goes unseen. Lehigh University hosts a sculpture garden on the way to their Mountain Top campus. Originally started by Mr. Imagination, Gregory Warmack, his pieces can be seen in a field where the sunlight makes embedded gems and bottle caps shine from concrete structures. Another outdoor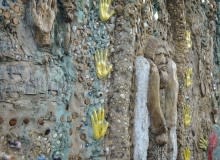 piece of his is the bus stop pavilion across from Comfort Suites.
Be sure to check out all the art around Lehigh Valley in your strolls this summer and share it with us on twitter @lehighvalleypa.
Vanessa Palumbo is a resident of Bethlehem, PA and frequent guest blogger for Discover Lehigh Valley. Don't forget to check out her blog, Resident Tourist.