On the hunt for a unique experience that will make your group of teenagers want to put away their phones and pay attention to what's happening in front of them? Lehigh Valley offers a number of excursions ideal for high school aged students that are sure to keep their brains working. 
Make your way to C.F. Martin & Co. for a guided factory tour. Here, world-famous acoustic guitars are handcrafted just steps away from your tour route. Learn how these instruments played key roles in the careers of musical greats including Johnny Cash, but be sure to note current Martin Ambassadors including Ed Sheeran.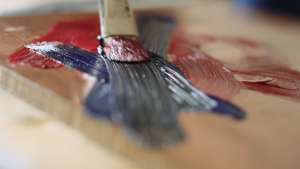 Catering to a group of artists? Watch local makers at work at the Banana Factory in Bethlehem. Home to a number of resident artists, this space showcases exhibits and offers classroom spaces for learning. If art history is more your style, your students are sure to be impressed by the Allentown Art Museum of the Lehigh Valley. Boasting a collection that spans nearly 2,000 years of cultural heritage, the museum features a number of rotating exhibits allowing for a fresh perspective with each visit. 
Or maybe you're touring with some history buffs. Look no further than Historic Bethlehem Museums & Sites for a glimpse into the past. Did you know that Bethlehem is home to more original historic structures than colonial Williamsburg? Take a walking tour through the city's Colonial Industrial Quarter or head south to SteelStacks, located on the grounds of the former Bethlehem Steel plant. The nearby National Museum of Industrial History gives visitors a look at the machines that helped shape America.
Perhaps you've got a physics class that's looking for a chance to do some hands-on measuring. Take on the eight roller coasters at Dorney Park & Wildwater Kingdom to analyze points including acceleration and force. In between the logistics, your group is sure to have a blast exploring the rest of the park! During summer months, visitors can also take on the slides of Wildwater Kingdom. 
For more information on these attractions or to start planning your next group excursion, contact the Discover Lehigh Valley team.