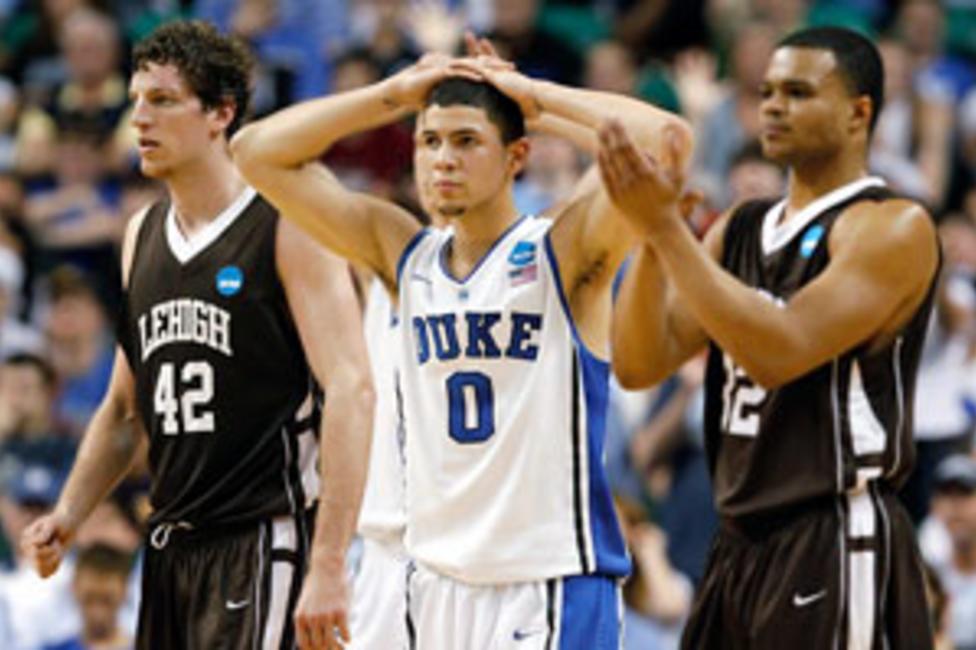 This past Friday night, lightning stuck for the second time in the 2012 NCAA Tournament. Just hours after Norfolk State stuns Missouri to become just the 5th 15th seed in NCAA history to upset a #2 seed, Lehigh finished off Duke to make it 6 times. And Lehigh Valley went crazy.
Here's a little history lesson: you know of the two most recent 15 over 2's, but the others are Hampton over Iowa State in 2001, Coppin State over South Carolina in 1997, Santa Clara over Arizona in 1993, and the first time it happened was Richmond over Syracuse in 1991.
Now for a Lehigh Men's Basketball history lesson. Lehigh has played Duke before, twice as part of their non-conference schedule and both times at Duke. On Dec. 2nd, 1996 Duke beat Lehigh 103 - 51. Going further back on Dec. 29th, 1990 Duke again beat Lehigh at Duke, 97 - 67. As for Lehigh's tournament history, going into the game Friday night, Lehigh was 0 - 4. I also feel the need to mention that in 2010, which was C.J. McCollum's freshman year, (16) Lehigh gave (1) Kansas a scare. The 16 point final margin did nothing to tell how close the game actually was.
But close doesn't matter anymore, because Lehigh did, in fact, beat Duke. From twitter to GetGlue to facebook, I read quite a lot on Friday night.
"Lehigh beats DUKE! This is what March Madness is all about!!"
"Patriot League goes boom, Duke splat...LOL"
"crap - my whole freakin bracket is red"
"3 pts 3 mins for Lehigh to hold on and bust another 25% of my bracket. #thisisMarchMadness"
"Stopped caring about my bracket. Go Lehigh!"
Those were some of the good ones worth sharing, the rest could be summed up with this one, "Lehigh Who?"
We know who we are, and considering "Lehigh" was one of the most searched terms that night, the rest of the country found out who we are too. Did I mention that Duke vs. Lehigh generated the most social media chatter of all the March Madness games. According to the Mashable Social TV Chart, it was only outdone by American Idol.
So we will celebrate an accomplishment of David (v. Goliath) proportions. Also, don't forget the glue of that Lehigh Men's Basketball team is all coming back next year. So who knows, maybe they'll dance a little longer next time around.