I've been trying for some time to persuade Don, my cigar smoking husband, to go to Leaf Restaurant & Cigar Bar in Easton. His Cigar Bar of choice has always been The Wooden Match in Bethlehem, which is great, but man does not live by one watering hole alone.
Some reasons he has given include, but are not limited to: "It is too far away." Um, no…per Google Maps, The Wooden Match is 14.6 miles from our house. Leaf a mere 13.2.
"It is in the middle of nowhere." Ok, it does have a non-traditional location in an industrial park near Crayola and Dixie Cup, but it is attached to their mail-order warehouse and has tons of parking.
"I don't want to." Not much I can say here…the man is set in his ways.
So, much to my surprise last Saturday afternoon, Don said "Why don't you get ready, I feel like going out". When I asked where he suggested we try Leaf.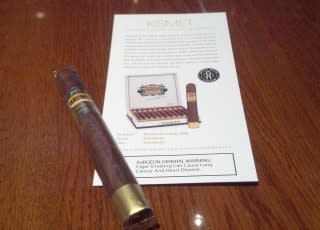 I've eaten at Leaf before which is why I wanted him to try it in the first place. We pulled into the lot and he was surprised at how many cars were there. Especially how many with out of state tags.
Was I surprised? No.
As we walked in the door Alex Goldman of Royal Gold Cigars greeted us and asked us to pull a playing card from a large box filled to the brim. Don pulled a seven of clubs and was handed a cigar. I was then asked to pull a card and my three of hearts also earned a cigar. Ironically they were Kismets, a nice choice from the Dominican Republic. This adventure was going to go well.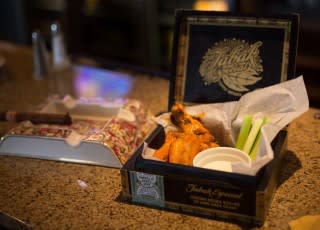 We were lucky to grab a just cleared table with great views of the various sporting events on their multiple TVs. Our server promptly greeted us, brought menus, and was back for our drink orders even though he obviously had several tables at one time. He even noticed I was gazing at the Olympics on a TV across the room and offered to switch the one in front of us to that channel.
Reading the menu is entertainment in and of itself. Seriously, click here and you'll see what I mean. I opted for the Wing Basket described as follows:
Wing Basket Many great things come in sixes: beer, gum, cinnamon buns, crayons, paper towels, abs, guitar strings, dice, Brady Bunch children, senate terms and these wings. Plain or tossed, in your choice of Buffalo or BBQ sauce; served with fries and coleslaw.
Now it may just be me, but I like the subtle nod to other great Lehigh Valley treasures, Crayola and Martin Guitar. Oh, and I opted for the onion petals instead of fries.
My wings were amazing! And the presentation in a cigar box was perfect.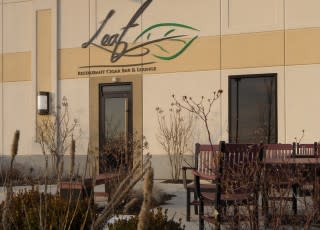 I heard another table praising the food to their server but I looked up when I heard him reply, "Thank you, that is my recipe." Sure enough, the chef was helping serve tables in the full to capacity dining room. Now that's service.
As we were walking out I suggested Don check out their store. I've had a full behind the scenes tour so I mentioned that "you should see the warehouse".
The gentleman working there heard me and showed us through a double set of doors leading into the space. Talk about impressive.
All in all we had a great afternoon and Don is already talking about going back for dinner, with friends. We are now signed up for their loyalty program so I'm sure we'll be regulars at Leaf.
Watch our "Live Like a Local Video" at Leaf.
[youtube]http://www.youtube.com/watch?v=dX18nBH4DBg&feature=share&list=PLI_YtUUdtTwr8vt86ZUCt0qqXxK7VLDFK&index=3[/youtube]