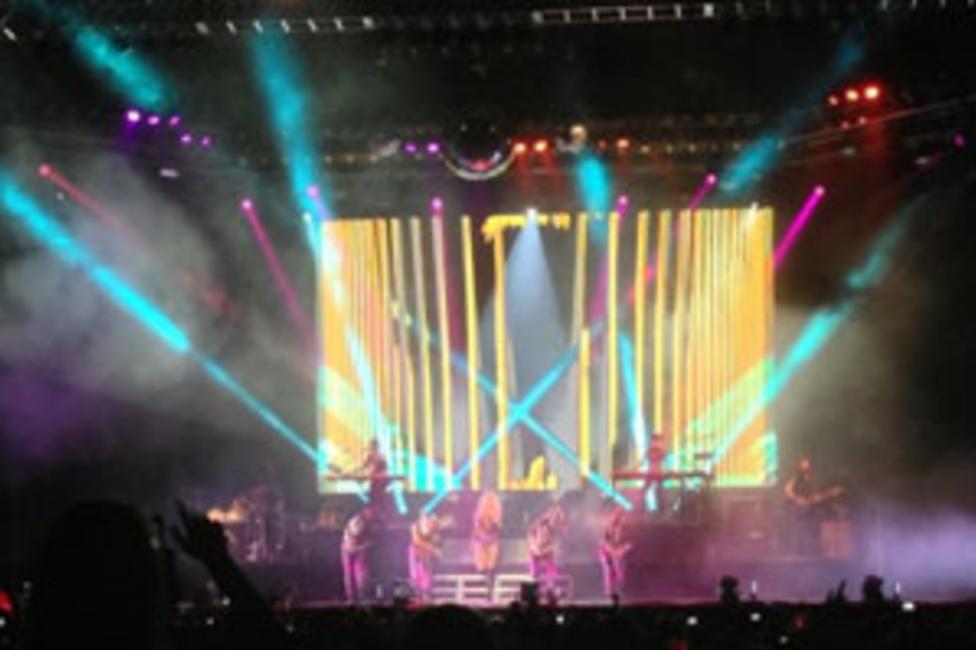 Saturday night's Musikfest performance brought more glitter to Bethlehem than anyone had probably seen. Ke$ha, supported by Semi Precious Weapons, took to the Sands Steel Stage, and it was definitely a performance to remember.
From the second you made your way down to the venue, you could tell that this was not going to be your average show.  Fans were dressed in all kinds of fashions emulating the various outfits that Ke$ha is normally seen in- leotards, fishnets, hats, even a dinosaur costume. But most noticeable was the glitter, something which there was no shortage of. Fans came into the venue covered, literally from head to toe, and didn't hesitate to dump more on themselves as the start of the show drew near.
Before she took the stage, Semi Precious Weapons came out and performed a few songs to get the audience ready for the night. Their set was quirky and fun, which definitely helped to set the mood for what was to come. For their last song, they played their new song "Aviation High," which will be on their upcoming album, set to release this fall. The group took some time out by the merchandise stand after the show to meet with fans and sign autographs.
As soon as the lights dimmed, screams erupted from the venue.  Four male dancers appeared on the stage with samurai swords to welcome the first song of the night "Warrior".  Ke$ha proudly stated that she wanted the show to be a place where every person could let go and be free to be themselves.
Her 16-song set continued with fan favorites such as "Crazy Kids," "We R Who We R," "Blah Blah Blah," and "Your Love is My Drug."  Throughout the songs, there were tons of antics that happened on stage, and each one seemed to get crazier.  From a giant diamond-shaped cage, to her dancers dressed in drag swinging around the cage and pole dancing, to a fight with inflatable pool animals, nothing was safe.  Ke$ha had a few different costume changes throughout the show, featuring everything from a sequined leotard to a rhinestoned American flag bandanna around her head.
For the finale, Ke$ha performed her first single "Tik Tok" and then came out for an encore of "Die Young." And what glitter-filled show would be complete without massive confetti cannons at the close?
If you didn't make it out for the show, you might still get a chance to catch some highlights! Ke$ha was happy to announce that her stop in Bethlehem was the first day of filming for the second season of her television show "My Crazy Beautiful Life," which airs on MTV.