Keep Calm and Drink Wine! I'm sure we have all seen this saying before? Well what better place to drink wine than at Wine on the Mountain. This weekend, Penn's Peak will be transformed into a wine lover's paradise as the wineries that make up the Lehigh Valley Wine Trail and a variety of vendors welcome everyone.
We reached out to our frequent guest blogger and owner of Clover Hill Vineyards & Winery, Kari Skrip Gavenus, for a sneak peak at what one can expect. So without further ado, here's Kari.
Grab some friends and join me at "Wine on the Mountain," a wine festival hosted by the Lehigh Valley Wine Trail at Penn's Peak. If you never attended this festival, let me give you an idea of what is in store on your trip.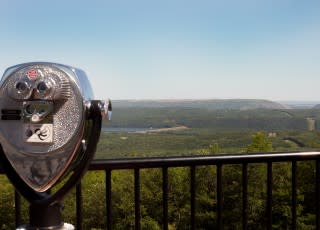 Penn's Peak is an idyllic setting to sip your wine. The wine tasting area is setup in the air conditioning, but you can purchase wine by the glass or the bottle to take outside on their patio. The views are absolutely stunning and this venue is perfect rain or shine. Nothing will keep us from a wine filled weekend!
All nine Lehigh Valley Wine Trail wineries will be pouring samples and selling wines at the festival. This is a great opportunity for you to taste and learn about what you like! Many of the wineries will be staffed by the owners or family members so be sure to ask questions. We love to share our wines and our stories. Here are a few of my personal "MUST TASTE" wines while at the event:
Amore: Red Rapture ($12.99) - Chambourcin with a touch of sweetness. This is a perfect wine for those who like a little sweetness in their red wines.
Big Creek: Sweet Muscat ($16.00) - Pale platinum straw color. Ripe aromas of honeyed peaches, grapes and pears, nougat, and delicate spicy praline with a round, fruity-sweet medium body and tangy green apple skin and mineral nuanced finish. A lovely European styled dessert wine; try with a strawberry tart.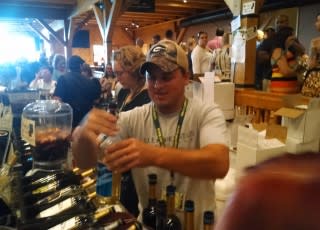 Blue Mountain: 2012 Petite Sirah ($27.00) - There is nothing little about this Petite Sirah. One of Blue Mountain's newest varietals the Petite Syrah is fast becoming a calling card with numerous awards, not to mention repeat customers! Full bodied. Wonderfully rich and jammy with undertones of blue and black berries as well as plum. Rich vanilla gives way to a subtle hint of pepper in a smooth lingering finish. Aged in French Oak.
Clover Hill Vineyards & Winery: Vidal Verde ($11.99) - A dry white wine that is patterned after the Portuguese Vino Verde wines. You will taste pineapple and citrus flavors with a hint of effervescence. Bright, fruity and a little bit of sparkle is the perfect complement to shellfish or a summer sipper!
Galen Glen: Late Harvest ($13.00) - End of season Vidal Blanc and Riesling with arrested natural sweetness, highlighted by pear, apple and grapefruit and a dazzling finish. Dangerously pleasing any time of day and with shrimp and spare ribs.
Tolino: 2012 Pinot Grigio ($14.99) - A great summer wine. Dry, crisp and fruity with an orange aroma and an orange, grapefruit & pineapple body.
Vynecrest: Summertime Red ($10.99) - Sweet and fruity sangria-style red wine that will be sure to make any day feel like summertime. Serve chilled, a true "Porch Sipping" red!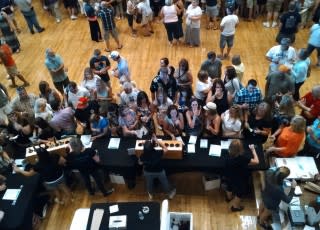 Make sure you stock up on your favorite wines while at the festival including a wide selection from Franklin Hills Vineyards. Make purchases at each individual winery and have it sent to the wine check. When you are finished tasting and shopping, pick up all your purchases as you leave Penn's Peak. Many of the wineries offer discounts on multiple bottles so be sure to ask about specials. Remember, shopping local is so beneficial for our community and the wineries of the Lehigh Valley appreciate your support!
Enjoy your time at "Wine on the Mountain." My Lehigh Valley Wine Trail friends and I look forward to seeing you.
"Wine on the Mountain" Event Details
Please note "Wine on the Mountain" is an adult-only event. Attendees must be 21 years of age or older to attend.
This is a rain-or-shine event as it is held completely indoors in air-conditioned comfort.
Tickets are $15 in advance, $20 at the door on Saturday, and $15 at the door on Sunday (Tickets are good for one day of the event, not both days. Tickets are not day-specific.)
Event hours are noon - 5 p.m. on Saturday and Sunday.
Tickets for "Wine on the Mountain" can be purchased by clicking here or can be purchased at the door on Saturday and Sunday. Designated driver tickets are $8 each can be purchased at the door only.
Tickets are non-refundable.
Guest Blogger – Kari Skrip Gavenus, Clover Hill Vineyards & Winery