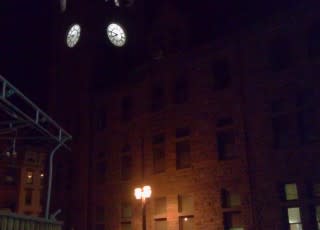 Located just north of Lehigh Valley lies the lovely, little town of Jim Thorpe. I recently spent a Friday night in town and had a great time. We started at Trattoria on Route 903. This Italian restaurant just opened its second location and it's much larger than the original, and offers the same great food.
I ordered the Eggplant Napoleon. It was layers upon layers of deliciousness … and enough for almost three servings for the price of $12.95. Others that joined me had the Tuscan Chicken Salad, which looked large enough to serve four people; an Ahi Tuna served over seaweed; and a fish special of sea bass with a crab topping served over a seafood risotto. Everyone had food to take home.
After dinner we were off (or should I say rolled!) to the Mauch Chunk Opera House to see the band TUSK, a Fleetwood Mac tribute. We parked our cars at the train station at the bottom of town and walked up the quaint lit streets. There were several bars and restaurants that we passed which looked super busy and most had some sort of entertainment that could be heard on the streets. We definitely want to go back to check out Crave at 66, an Absinthe House.
The Mauch Chunk Opera House is a small, 395-seat theatre that was opened in 1882 and still affords many of its charming characteristics from that era. The upstairs houses a historical exhibit that details the region and is well worth the perusal. The lobby serves beer, wine, soft drinks and desserts to satisfy your appetites through the show. We loaded up and headed to our seats which were located on the lower balcony level and offered a great view of the stage.
The night started with a half hour opening act of a one man show. He primed us for a three-hour concert that was simply amazing. TUSK not only had the sounds down, but the moves and appearance of the original Fleetwood Mac. And for the record, the acoustics in the theatre were much better than some of the newly built venues that I have been in.
Have you been to a show at Mauch Chunk Opera House? Where's your favorite downtown Jim Thorpe spot to visit? Next time we're going for a wine tasting event at the Harry Packer Mansion!