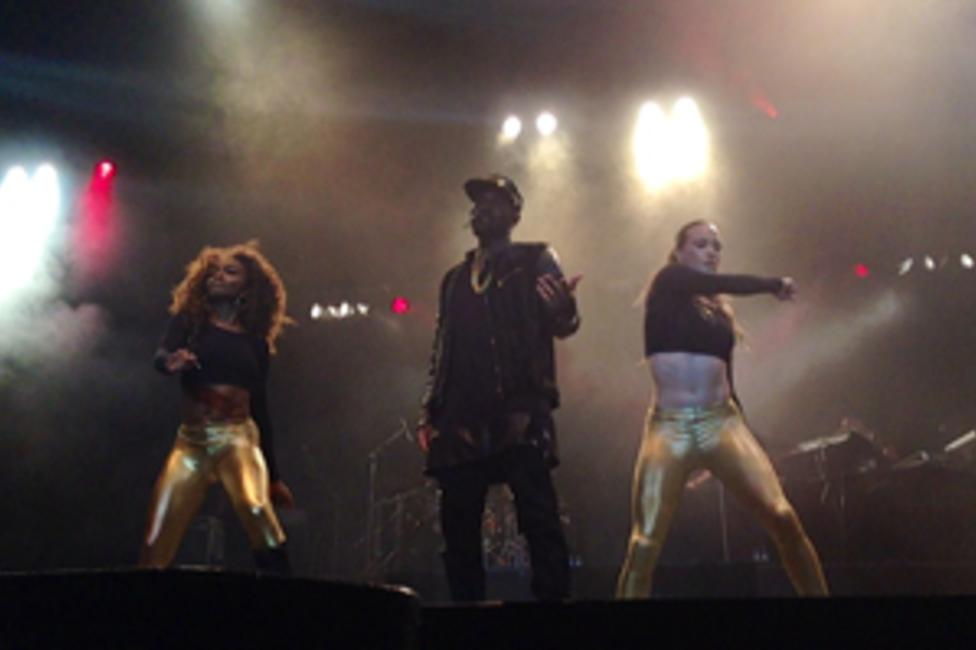 On the third night of Musikfest, a different sort of audience flocked to the Sands Steel Stage on Bethlehem's South Side.
A primarily female audience turned out for pop music phenomenon, Jason DeRulo. There certainly was no shortage of squeals from the crowd as DeRulo sang and danced his way around the stage.
Openers Fly Panda set the mood for the show, delivering an energetic performance to get the crowd up and dancing. And yes, there really was a giant panda on stage.
As dusk settled in, the audience became a sea of blinking lights as concert goers donned light-up bracelets, courtesy of show sponsor Coordinated Health. An arch of orange balloons circled the venue, each balloon with an orange light attached.
Before Jason DeRulo hit the stage, DJ Jokermusic threw a bass-thumping dance party to get the crowd riled up and ready to go. One by one, dancers appeared on the stage, setting the scene for the main act.
DeRulo kicked off the show with one of his most popular songs, "In My  Head." The crowd echoed the lyrics back and DeRulo and his dancers moved about the stage.
The energy stayed consistent throughout the show with DeRulo encouraging the crowd to get up dance. Fan favorites included "It Girl," "Ridin Solo," "Whatcha Say," and "The Other Side."
Jason DeRulo even inspired a bit of romanticism during his song "Marry Me." A couple joined DeRulo onstage with a proposal midsong. Perhaps a Musikfest first!
Mid-way through the set, the audience was teased with the first few notes of current hit "Talk Dirty to Me," but DeRulo stopped the song, saying that Bethlehem wasn't ready for that quite yet.
One of the most impressive aspects of the performance was the group of backup dancers that graced the stage. The two female dancers showed their skills in a mashup of Beyonce and Iggy Azalea tracks, while the gentleman flipped across the stage between other songs.
The show closed out with DeRulo's two most recent hits, "Talk Dirty to Me" and "Wiggle."
Musikfest continues through Sunday, August 10 with hundreds of free performances over numerous stages. Upcoming Sands Steel Stage performances include Sheryl Crow on August 4, The Avett Brothers on August 7, and Weezer on August 9, among others. Tickets remain for all of the Sands Steel Stage shows, excluding festival closer Keith Urban on August 10. Visit the Musikfest website to order your tickets online, or call the box office at 610-332-3378.
[gallery ids="20217,20221,20219,20214,20218,20216,20215,20220"]