Baguettes or spaghetti? Who ya got?
France and Italy will do battle at Historic Hotel Bethlehem on April 30 and the resounding winner will be your taste buds.
This fun "battle" is a way to showcase some special chefs as well as to provide a tremendously entertaining evening in downtown Bethlehem.
Heading up Team France will be Chef de Cuisine David Troxell and Restaurant Manager Francoise Buhot Launay. Chef Chris Goodwin and Restaurant Manager Eligio Perotti will represent Team Italy. Hotel Bethlehem's new Executive Chef Michael Adams will supervise both teams.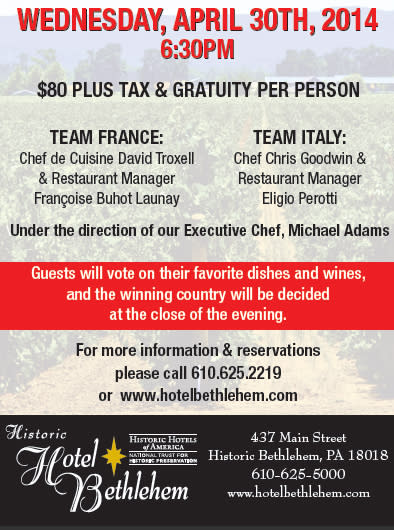 Who decides the winner? The dinner guests, of course. After you eat and drink, you will be asked to vote on your favorite dishes and wines with the winning team being chosen at the end of the night.
We'd love to divulge what will be on the menus, but they are being kept top secret (probably so neither team can gain an advantage prior to the event.) So, not only will dinner be outstanding, but it will also be a surprise to almost everyone in attendance.
The dinner is $80 per person plus tax and gratuity.
Don't wait to get in on this great event. Reservations are strongly recommended and can be made by calling 610-625-2219 or by emailing restaurants@hotelbethlehem.com.