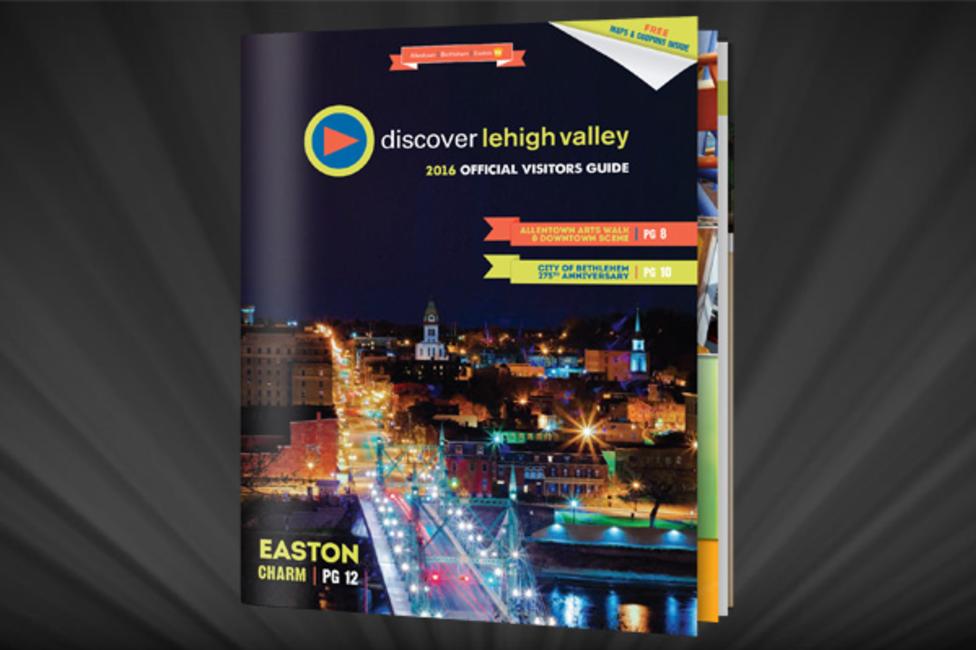 Plan your Lehigh Valley getaway with DiscoverLehighValley.com's comprehensive 68-page visitors guide to exploring Allentown, Bethlehem, and Easton. The new 2016 Discover Lehigh Valley Official Visitors Guide is complete with sample itineraries, stay & save travel packages, getting to/from as well as around, maps, coupons, and the region's official calendar of events.
Special features highlight what makes the Valley's three cities the top of your must-visit list this year with Allentown's massive renaissance, Bethlehem's 275th anniversary, and the riverside charm of Easton. Connect these with your passions for rediscovering romance, guys only vs. just the girls adventures, and how to jam-pack your summer with family fun … and you'll have an itinerary for the perfect trip!
Stay & Save packages will help you get more for less. No matter who you travel with, what you plan on doing, or the time of year you plan to visit, there are affordable and convenient ways to visit the region.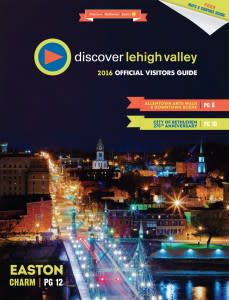 Play, Stay, Shop, Eat, and Discover Lehigh Valley with more than 356 Restaurant, Bar, and Things to Do options alone.
Browse listings and consider the different icons, signifying properties and attractions that cater to meeting planners, or those that are group-tour friendly.
What's Lehigh Valley cooking? Whatever you're craving – from elegant, farm-to-table to classic dinner and pub food, the Eat section has it all. Are you craving Italian, Asian-Fusion, French, or Mexican? Looking for something family-friendly? Do you ever wonder if you need to make reservations? All of these options are included.
To be sure you don't miss out on your free copy, call 1-800-MEET-HERE or request a free brochure form online here. They're also at more than 60 locations throughout Lehigh Valley including most hotels and the Lehigh Valley International Airport. Or, you can pick up a copy at one of the visitor centers:
Bethlehem Visitor Center - SteelStacks, 711 E. First St., Bethlehem
Historic Bethlehem Visitor Center, 505 Main St., Bethlehem
Keystone Welcome Center at Lehigh Valley - Delaware River Bridge Toll Plaza, 1400 Cedarville Rd., Easton
Lehigh Valley Visitor Center -Sigal Museum, 342 Northampton St., Easton
Nurture Nature Center - 518 Northampton St., Easton
Nazareth Area Visitor Center - Nazareth Area Chamber of Commerce, 201 N. Main St., Nazareth
Jacobsburg Environmental Education Center - 400 Belfast Rd., Nazareth
Whitehall Area Visitor's Center - Whitehall Area Chamber of Commerce, 1457 MacArthur Rd., Ste. 280, Whitehall
Lehigh Valley Visitor Center - America On Wheels, 5 N. Front St., Allentown
Plan your Lehigh Valley getaway today.