If you find yourself in Lehigh Valley for the holiday season, there are more options to be explored than just the Christmas City of Bethlehem, Pa. In fact, right next door, the Queen City of Allentown has many Christmas and attractions and events, making Lehigh Valley a region full of holiday cheer.
With that in mind, here's a festive 48-hour itinerary for Allentown, Pennsylvania.
Day 1: Enjoying West Allentown
Hometown Diner is a place that the locals like to enjoy, so you won't go wrong here. For those interested in attempting controversial local dish, Hometown has good scrapple, though not everyone is a fan. 
After a filling breakfast, head west towards The Shoppes of Premise Maid for some chocolates, cakes, and candy delights, good for snacking during the rest of your stay or as gifts. And if that isn't enough to satisfy your sweet tooth, on your way back east for lunch, stop at Josh Early Candies for even more delectable treats.
If you happen to be in Allentown on a Thursday, Friday, or Saturday, enjoy lunch at the Allentown Fairgrounds Farmers Market. Beyond the fresh produce and farm fresh meats, there are plenty of shopping opportunities to be had. If the farmers market isn't an option, check out local favorite Wert's Cafe for great burgers and perhaps the best onion rings you'll ever eat.
If your travels bring you to the region on a Friday, Saturday, or Sunday, you'll want to travel to the Model Train Exhibit at Merchants Square Mall. Featuring a main display over 2,800 square feet and a 30-minute show, this will capture your imagination. And just up the road is Weil Antique Center for getting that hard to shop for person a gift or to treat yourself.
During the week, Weil Antique is still open for a visit, but perhaps a late afternoon jaunt through the Promenade Shops at Saucon Valley would help burn off lunch and make room for a dinner at Hops Fogelsville Hotel.
Hops is close to the evening's entertainment, so be sure to fill up before heading to the Lehigh Valley Zoo's Winter Light Spectacular. The Zoo is lit up with over 1.1 million lights with themed displays, outdoor fire pits, and there's cocoa and s'mores to be had to fight against the cold winter evening. 
When it's time to call it a night, consider the Glasbern for an idyllic country overnight, or The Center at Holiday Inn if the family in tow
Day 2: Experiencing Downtown Allentown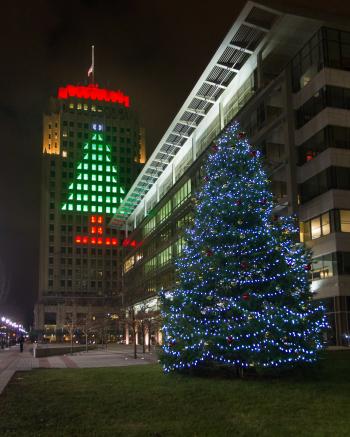 After enjoying the comforts of a full nights sleep, head to downtown Allentown for a late breakfast at Cafe Vida. It's where the locals go for a good cup of local coffee with beans from Backyard Beans Coffee Company.
After breakfast, be one of the first to get through the doors at the America On Wheels Museum when it opens at 10 a.m. During this time of year, you can experience the Holiday Train Exhibit in addition to browsing through the history of motoring from two and four wheels, all the way up to sixteen!
Head back up the street to the Allentown Art Museum. Exhibitions change from time to time but one highlight of the permanent collections is the Frank Lloyd Wright Library from the Francis W. Little House. It's similar to one of the upscale libraries you might see on a Hallmark Christmas Special and a must-see for any fan of architecture.
If you get the chance, pay a visit to the Liberty Bell Museum as they always put on a nice Christmas display. You might even be able to catch a show of Pip the Mouse, which dates back to the days of Hess's Department Store, formerly one of the retail crown jewels of downtown.
Next, it's time to fuel up at Allentown Brew Works. The Power Salad and Grain Fed Burger may be just the thing to gear up for the afternoon's activities.
If you've still got a shopping list to check off, make your way to the Lehigh Valley Mall to find gifts of all shapes and sizes. Alternatively, the Lehigh Valley Grand Prix and Lehigh Valley Laser Tag are both close by if you're on the hunt for some adrenaline-filled excitement.
For dinner, the Hamilton Kitchen is at the heart of downtown and offers a cozy atmosphere that is both modern and rustic. There's something on the menu for everyone, including some tasty some seasonal dishes and drinks. After dinner, take a stroll west on Hamilton Street to take in the PPL Tower's holiday display. During the holiday season, windows are lit up to form the shape of a Christmas tree on the eastern-facing side, while the western-facing side features a candle.
Before you call it a night, be sure to save energy for a bit more exploring. Pack the family in the car and head to Allentown's Lights in the Parkway for even more holiday cheer from the comfort of your vehicle. Or, check out the upcoming schedule of performances at the Civic Theatre of Allentown or Miller Symphony Hall as they offer an impressive lineup of holiday performances.
No matter your choice, it's only a short trip back to the night's end at Renaissance Allentown Hotel, where you'll find comfortable yet modern accommodations in the heart of downtown Allentown.
For more things to see and do in Lehigh Valley during the holiday season, click here.