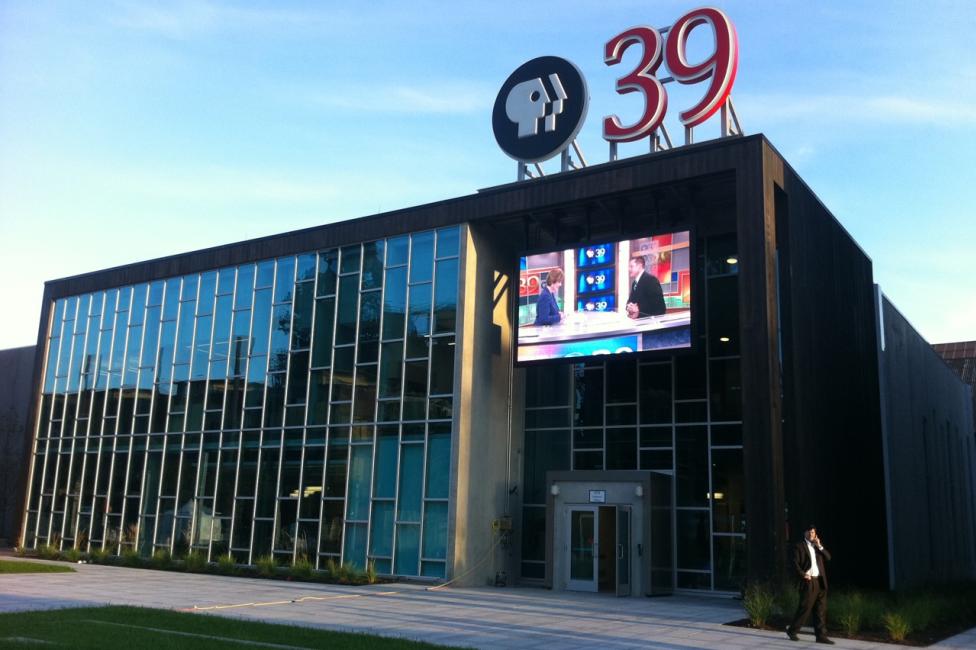 This past weekend was very busy for the folks at PBS39, as they celebrated the grand opening of the new PBS39 Public Media and Education Center. Now at it's new location 839 Sesame Street, Bethlehem at the Steel Stacks complex, they had a Family Fun Ride and other festivities on September 10th, then dedicated a Peace Pole during it's World Peace Flag Ceremony on September 11th.
On Friday, a few of us 4O1!ers had the pleasure of attending the Grand Opening Reception, where we got to rub elbows with The Cat in the Hat, Curious George, Mr. McFeely of Mr. Rogers Fame, and of course, Telebear! We had the opportunity to catch up with some of our favorite area philanthropists and snack on some delicious food while listening to a string quartet rock out on Coldplay. And while we were being ushered in to the new studio to watch a live broadcast of Scholastic Scrimmage Celebrity Face-off, hosted by Amy Burkett, we inadvertently followed Curious George behind the set. We thought we were trapped as the backstage door swung shut behind George's tail... We were panicking! Fortunately the stage director spotted us a few minutes later when he popped his head in and motioned for us to quietly make our way to the door. This was no small feat for me, I was wearing heels that day and had to tip-toe ever so carefully over. And that's how I made it into the first live broadcast from PBS39's new studio.
The facility is gorgeous; the architecture matches the industrial feel of the Steel Stacks complex but still feels inviting and modern. PBS39 will now operate a little differently than most other public television stations. They will utilize their resources to offer area filmmakers and artists to rent equipment and space inexpensively, which will assist the station in raising funds and hopefully encourage budding artists to explore new options. You can read more about how PBS39 will use the space in this Upper Macungie Patch opinion piece or this lehighvalleylive.com piece.
I'm looking forward to what's in store for PBS39 WLVT  as they continue to grow and encourage the arts in our community, and I can't wait to go back for another live broadcast, this time as a part of the audience!
Samantha Buker is the Communications Director for 4O1! Creative and was a social media intern at Discover Lehigh Valley, both in Allentown, PA. She has been wining and dining around the Lehigh Valley for over 6 years.
[gallery ids="6548,6549,6550"]