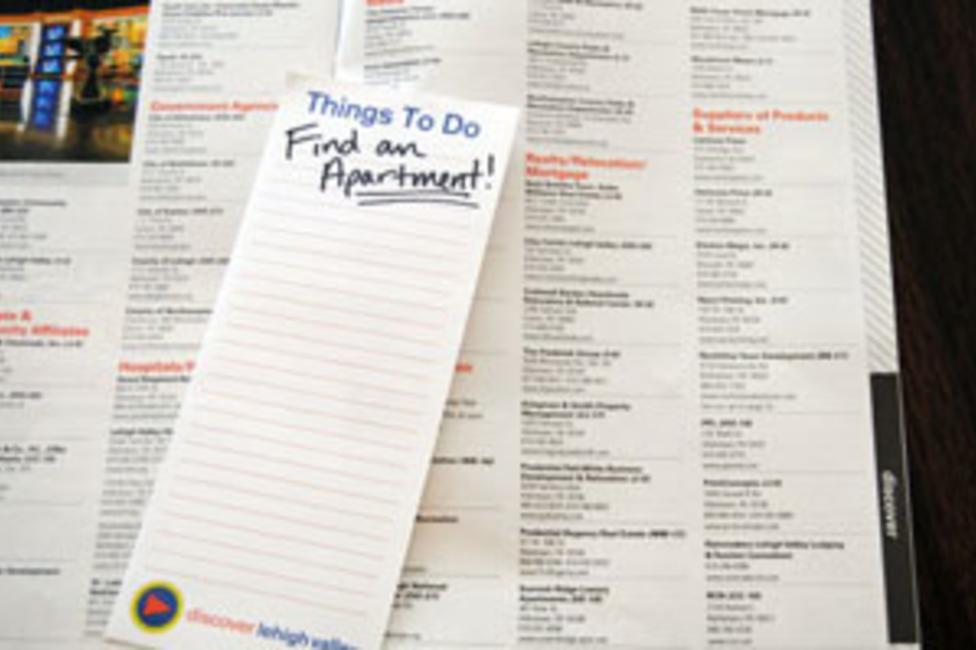 When I knew that I would be joining the Discover Lehigh Valley team, I immediately started searching for an apartment closer to my new job. It took about a month of constant searching as well as surviving a few disappointing apartment showings, but I finally found the perfect place to call my own.
Here's how I found 'The One.'
Know Thyself
Finding an apartment is similar to finding the right guy to date. You have to know what makes you happy, and what would send you running in the opposite direction screaming. The first thing I did was create a wish list of all the things I really couldn't live without. You know, the things that give you butterflies just thinking about them. Then I made a list of things I would really like to have, but wouldn't be deal breakers. These lists will look different for everyone. Here's mine:
I Can't Live Without:
A short commute to work (no more than 10 miles)
Walking distance to restaurants, bars and shops, and more bars
A beautiful kitchen with plenty of storage and counter space
A bathroom that doesn't gross me out
Good flooring (because the thought of dirty carpets makes my skin itchy)
New paint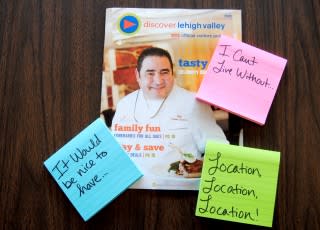 It Would Be Nice to Have: 
Off-street parking
Utilities included with rent
A dishwasher
On-site laundry
The internet was my best friend through all of this. I checked Zillow, Craigslist, and Trulia daily for apartment listings that fit my wish list. (Kinda like consulting your three best friends to see what they thought of that new guy you're dating.) Fortunately, my new position at Discover Lehigh Valley gave me access to great relocation services and a staff that knows Lehigh Valley like the back of their collective hands.
Location, Location, Location
Lehigh Valley has three major cities to consider if you're looking for an apartment: Allentown, Easton, and Bethlehem. Location is the most important factor when it comes to living happily ever after. Because a short commute and the ability to walk to amenities were at the top of my list, that narrowed my search to downtown Bethlehem. Some of my favorite places to walk to include: American Hairlines, The Moravian Book Shop, and McCarthy's Tea Room.
Utilities, Budgets, & Parking. Oh My!
With my wish list completed and location narrowed down, the next step was making sure I could actually afford to live where I wanted. There are a few upsides to being an only child, like being lucky enough to graduate college without student loan payments. Even though I don't have as many bills as other college grads; I still wanted to be smart with my money. Paying rent is just the tip of the iceberg. I also had to factor in other living costs like TV, internet, electricity, gas, parking, and my boyfriend eating at Five Guys all the time. My advice would be to set a budget where you can save between 10-20 percent of your paycheck after bills are paid.
Real Estate Agent VS. Do It Yourself
I also highly recommend partnering with a real estate agent, especially if you're looking for an apartment in an area as competitive as Lehigh Valley. Craigslist, Zillow and Trulia are great resources to help get a sense of what's out there in your price range, but the listings on sites like these are often a few days behind realtor's listings. A good realtor will also be your advocate for any negotiations that may need to take place to win an apartment. I personally would not have been able to secure the apartment of my dreams without a wonderful real estate agent.
When You've Found 'The One' It Just Feels Right
It's easy to psych yourself out when you think you've found 'The One.' "Is this really the one for me?"  "I think I can do better than that," are a few of the thoughts I had when walking through some of the apartments I visited. You shouldn't have to talk yourself into liking an apartment, if you do it's not your dream apartment. Like any relationship, rushing into a long-term commitment often leads to heartache. Take a few days to decide and, if possible, visit more than once. Most leases are about one year and if you follow the same steps I did, you'll find 'The One.'