The "Hotel Insider" blogs, are a series of blogs that shows some love for our local lodging properties, and piggybacks off our regularly, weekly featured Travel Tuesday deals on DiscoverLehighValley.com.
In these blogs I try to steer away from some of the mundane questions that one might think, and feature some useful and entertaining questions. You might be surprised at some of the answers. So enjoy and check back regularly on Tuesdays (usually twice a month) to catch a new featured property.
This week we sit down with Shannon Reinhardt, Director of Sales & Marketing at the Allentown Comfort Suites.
[caption id="attachment_18977" align="alignright" width="320"]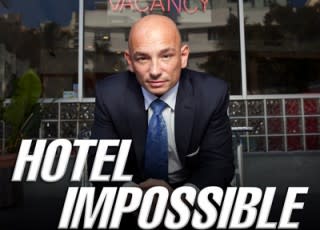 Mr. Hotel Impossible, Anthony Melchiorri[/caption]
Discover Lehigh Valley: What makes your property different or unique? Allentown Comfort Suites: Our management team!  We have an excellent management team that always thinks about the guest first. After all, the hotel is the only place outside of your home where you have guests (Anthony Melchiorri would be proud Shannon). We love our guests. In addition, we have a fantastic hotel that has just finished a complete upgrade from our lobby to each and every guest room.
DLV: What's your best room/suite, and why? ACS: Our King Suites on the fourth floor offer a fantastic view of Dorney Park & Wildwater Kingdom.
DLV: What are your best amenities? ACS: Every room has a refrigerator, microwave, coffee maker, and in-room safe. All of these are great amenities for our guests. We also have a full-service restaurant and pub that offer room service.
DLV: If your property host events what is the most popular or fun event? ACS: Our mixers are awesome. Great décor, great food, great drinks, and great people!
DLV: What was the strangest request you have ever received from a guest? ACS: A guest wanted to know where they could rent a tandem bike.  That's one of many strange requests.
DLV: Have you ever hosted a celebrity (ies)? If so, who was the most fun? ACS: The band Lifehouse was here. They were a lot of fun and played whiffle ball in our parking lot.
[youtube]https://www.youtube.com/watch?v=VvAx2qagtlQ[/youtube]
DLV: What's your busiest time of the year? ACS: Definitely Summer based on our location.
[caption id="attachment_18979" align="alignright" width="300"]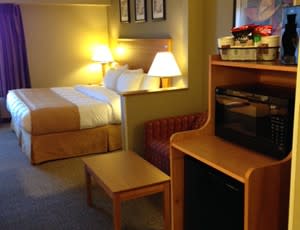 Relax the night away[/caption]
DLV: When is the best time to stay at your property? ACS: Anytime, of course!
DLV: How does a guest get the best rate at your property? ACS: Call the front desk and speak with us directly. If you have a group or corporate lodging need you can contact our Sales Department at (610) 437-9100.
DLV: Do you serve breakfast? Is it included in the rate? ACS: We do serve a complimentary breakfast buffet every day.
DLV: Is the property pet friendly? ACS: Sorry we are not.
DLV: Are there activities on property for children? If so can you name a few?  ACS: Dorney Park & Wildwater Kingdom is directly across the street. We also have free Wi-Fi throughout the entire hotel for kid's tablets and games.
DLV: Does the property have a bar? ACS: Yes! Linx, our full-service restaurant and pub.
DLV: Does the property offer free parking? ACS: Yes we have free parking and plenty of space for buses and work trucks too!
The Hotel is located at: 3712 Hamilton Blvd., Allentown, PA 18103 Phone: (610) 437-9100 Website: www.ComfortSuites.com/hotel/pa117
Thanks so much for the time Shannon. We wish you guys well as summer approaches. Feel free to have us over for one of those mixers. So Lehigh Valley and beyond, if you're looking for a great lodging option conveniently located near Dorney Park & Wildwater Kingdom, this is the place. Check them out on Facebook too at Please check back on Tuesdays as we will feature another great loading property soon.