The "Hotel Insider" blogs, are a series of blogs that shows some love for our local lodging properties, and piggybacks off our regularly, weekly featured Travel Tuesday deals on DiscoverLehighValley.com.
In these blogs I try to steer away from some of the mundane questions that one might think, and feature some useful and entertaining questions. You might be surprised at some of the answers. So enjoy and check back regularly on Tuesdays (usually twice a month) to catch a new featured property.
This week we sit down with Kathi Lansinger, Director of Sales & Catering at the Ramada Inn Whitehall/Allentown, which is also a place where you can pick up one of our special #LVme frames for a chance to win prizes.
Discover Lehigh Valley: What makes your property different or unique? Ramada Inn: Location, location, location. We are the only hotel located along Lehigh Valley's biggest and best shopping and dining strip.
[caption id="attachment_19127" align="alignright" width="320"]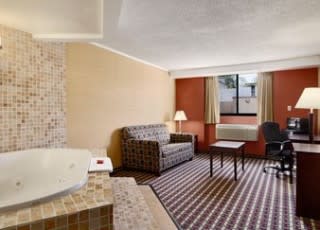 Jacuzzi Suite[/caption]
DLV: What's your best room/suite and why? RI: Our Jacuzzi suite is always number one. It is a one bedroom suite with a hot tub. You can't go wrong!
DLV: What are your best amenities? RI: Free deluxe Continental breakfast with Belgian waffles, eggs, sausage, and much more. All our rooms have a refrigerator, microwave, 32" LCD TV, and free Wi-Fi.
DLV: If your property offers food, what is your most popular dish, or something that you absolutely have to try? RI: That's simple. You must try our delicious "Shooter's Taco."
DLV: If your property host events what is the most popular or fun event? RI: Comedy shows every weekend yearround.
DLV: What was the strangest request you have ever received from a guest? RI: It's hard to pick just one, so, I'll go with strangest guest "confusion" since it's more fun. "I can't get the Jacuzzi tub to work. Do I have to fill the tub past the jets?"
DLV: Have you ever hosted a celebrity (ies)? If so, who was the most fun? RI: Unfortunately, no one big enough to remember.
[caption id="attachment_19126" align="alignright" width="320"]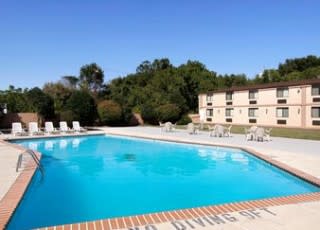 Come and Cool Off[/caption]
DLV: What's your busiest time of the year? RI: Definitely July and August. Summer is great in Lehigh Valley.
DLV: When is the best time to stay at your property? RI: New Year's Eve!  We have quite the party going. Plus we have a package that includes an overnight stay, two comedy show tickets, two-hour open bar, midnight champagne toast, party favors, 1 a.m. munchies buffet, and our deluxe Continental breakfast in the morning.
DLV: How does a guest get the best rate at your property? RI: Just log on to www.AllentownRamada.com.
DLV: Do you serve breakfast? Is it included in the rate? RI: We do serve  our Contiental breakfast buffet every day and it is included in the rate.
DLV: Is the property pet friendly? RI: Absolutely.
DLV: Are there activities on property for children? If so can you name a few? RI: Not on-site, but the directly across the street is Chuck E. Cheese  which all kids are sure to love.
DLV: Does the property have a bar? RI: Yes! Shooters.
DLV: Does the property offer free parking? RI: Yes we have plenty of free parking.
DLV: What should one know about your property before arriving? RI: Your stay will be beyond expectations. The rooms are packed with amenities and our full-service, affordable hotel has a lot to offer on-site and within a five to 15 minute drive in any direction.
DLV: One question and answer that you would like people to know? RI: May I bring my own food when hosting a banquet or meeting at your hotel?  Answer? Absolutely!
The Hotel is located at: 1500 MacArthur Rd., Whitehall, PA 18052 Phone: (610) 439-1037 Website: www.AllentownRamada.com
Thanks so much for the time Kathi. We wish you guys well as the months heat up. Feel free to have us over for one of those tacos. So Lehigh Valley and beyond, if you're looking for a great lodging option conveniently located near Lehigh Valley Mall, this is the place. Please check back on Tuesdays as we will feature another great loading property soon.