For those that didn't catch the last couple "Hotel Insider" blogs, the series shows some love for our local lodging properties, and piggybacks off our regularly, weekly featured Travel Tuesday deals on DiscoverLehighValley.com.
The blog takes a similar format of our Foodie Friday blog featuring a question and answer format. We tried to steer away from some of the mundane questions that one might think, and feature some useful and entertaining questions. You might be surprised at some of the answers. So enjoy and check back regularly Tuesdays (usually twice a month) to catch a new featured property.
This week we sat down with former Erin Collins, former Sales Manager at the TownePlace Suites by Marriott Bethlehem Easton.
Discover Lehigh Valley: What makes your property different or unique? Towne Place: We feature All Suites with Stainless Steel Kitchens
[caption id="attachment_18622" align="alignright" width="300"]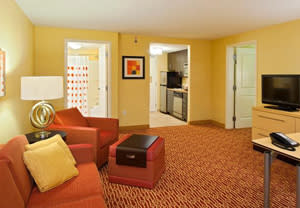 Spacious Suites[/caption]
DLV: What's your best room/suite, and why? TP: Our two bedroom suite with a separate living room. It is large enough to accommodate a bigger family, while keeping some privacy.
DLV: What are your best amenities? TP: Guests love the full kitchens, our heated indoor pool & spa, plus our property is located right next to shopping plaza
DLV: If your property offers food, what is your most popular dish, or something that you absolutely have to try?
TP: We feature an onsite market; however, there are 24 dining options within a mile.
DLV: What was the strangest request you have ever received from a guest? TP: We switched a refrigerator out of a guest's room, because they were accustomed to the door opening in the opposite direction. You could say we are very accommodating.
DLV: Have you ever hosted a celebrity (ies)? If so, who was the most fun? (Plus they had some strange requests) TP: The most fun was Kathy Griffin, and hearing her discuss Britney Spears in our lobby.
DLV: What's your busiest time of the year? TP: April through October when our regular corporate business is boosted by leisure travelers.
[caption id="attachment_18623" align="alignright" width="300"]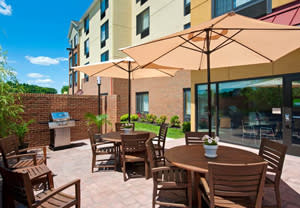 Inviting Patio[/caption]
DLV: When is the best time to stay at your property? TP: In the summer when we have amazing barbecues on our patio.
DLV: How does a guest get the best rate at your property? TP: You get further with honey than vinegar! (Interesting answer Erin)
DLV: Do you serve breakfast? Is it included in the rate? TP: A complimentary Continental breakfast with a make-your-own waffle station is included with the suite.
DLV: Is the property pet friendly? TP: Yes!  We have even had a Desert Cicada Tortoise that called our Marriott home for a few short weeks, and had a life expectancy of 140 Years.
DLV: Does the property offer free parking? TP: Parking is included in our rates, and we offer a big onsite lot.
[caption id="attachment_18625" align="alignright" width="300"]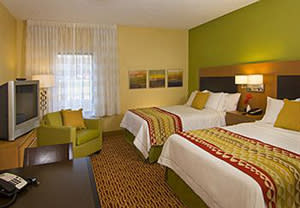 Large Bedrooms[/caption]
DLV: What should one know about your property before arriving? TP: The closets in our standard suites are so spacious that they will ruin all future stays at any other hotel.
DLV: One question and answer that you would like people to know? TP: We are a Marriott, and yes you may earn Marriott Reward Points by being our guest.
The Hotel is located at: 3800 Easton Nazareth Highway Easton, PA 18045 Phone: (610) 829-2000 Website: www.Marriott.com/ABETS
Thanks so much for the time Erin and we wish you well in your new endeavor. So Lehigh Valley and beyond, if you're looking for a great lodging option have a refrigerator preference check out theTownePlace Suites by Marriott Bethlehem Easton. Please check back on Tuesdays as we will feature another great loading property soon.
[gallery ids="18629,18630"]