For those that didn't catch the last couple "Look Inside the Hotels" blogs, the series shows some love for our local lodging properties, and piggybacks off our regularly, weekly featured Travel Tuesday deals on DiscoverLehighValley.com.
The blog takes a similar format of our Foodie Friday blog featuring a question and answer format. We tried to steer away from some of the mundane questions that one might think, and feature some useful and entertaining questions. You might be surprised at some of the answers. So, enjoy and check back regularly Tuesdays (usually twice a month) to catch a new featured property.
This week we sit with Becky Zavilla, Sales Manager at the very chic, Hilton Garden Inn on Airport Road.
[caption id="attachment_17979" align="alignright" width="200"]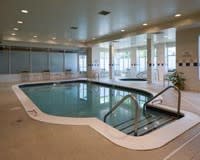 Take a dip[/caption]
Discover Lehigh Valley: What are your best amenities? Hilton Garden Inn: Some of our best amenities are our heated pool and whirlpool, our full service breakfast, and soon-to-be full-service dinner.
DLV: If your property offers food, what is your most popular dish, or something that you absolutely have to try? HGI: We currently feature breakfast here at the property, and the one dish you must try is our waffles. They are amazing!
DLV: What was the strangest request you have ever received from a guest? HGI: Can my room have a balcony? Unfortunately we are not an ocean front facility so we were unable to accommodate that request.
DLV: What's your busiest time of the year? HGI: Our busiest time of the year is late spring throughout the summer, as we host a lot of different sports teams.
DLV: When is the best time to stay at your property? HGI: The best time to stay with is definitely the fall. We have many trees at the entrance to our property, so it's always nice to see the leaves and their colors in full effect. Also, Lehigh Valley is a little quieter around this time of year.
[caption id="attachment_17977" align="alignleft" width="220"]
Sit back and unwind[/caption]
DLV: Do you serve breakfast? Is it included in the rate? HGI: We offer full-service breakfast here at the property, but unfortunately it is not included in the rate, but it is well worth it.
DLV: Is the property pet friendly? HGI: Unfortunately our property is not pet friendly. However, we do feature a sister property, the Staybridge Suite, which utilizes the same parking lot as us that is pet friendly.
DLV: Does the property have a bar? HGI: We currently do feature a small bar that is currently expanding into a larger bar as we talk.
DLV: Does the property offer free parking? HGI: We certainly do.
DLV: What should one know about your property before arriving? HGI: That we are a great airport property renovated within the last six months. We offer complementary shuttle to and from Lehigh Valley International Airport (ABE) 24 hours a day, seven days a week. And last but definitely not least, we have a great front desk that will make you feel right at home, whether you are on a business or personal trip.
[caption id="attachment_17978" align="alignright" width="200"]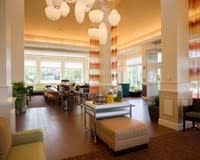 Wonderful ambiance[/caption]
The Hotel is located at: 1787-B Airport Rd. Allentown, PA 18109 Phone: 610-443-1400 Web site: allentownairport.stayhgi.com
Thanks so much for the time Becky. So Lehigh Valley and beyond, if you're looking for a fully renovated property that offers a great modern feel, check out Becky's property, the Hilton Garden Inn – Allentown Bethlehem Airport. Tell her we said hello. Please check back on Tuesdays as we will feature another great loading property soon.