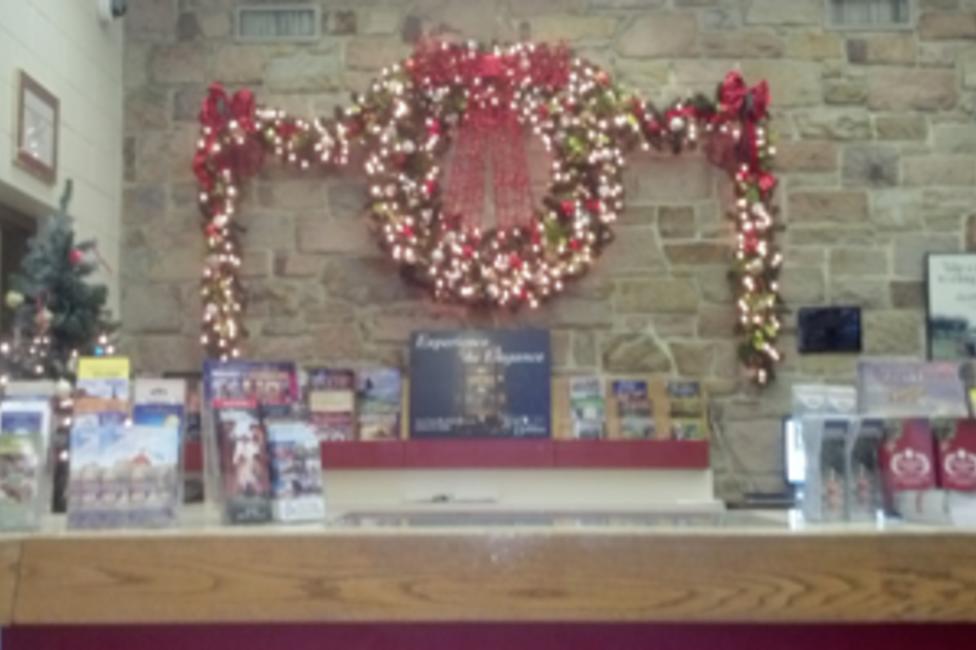 Back on November 27th I received this e-mail from April at the Keystone Welcome Center at Lehigh Valley:
Hi Nancy, Can you please do us a BIG favor, and see if you can locate a local business to come in the Welcome Center and decorate for Christmas? I don't know where to start and you always have a way of getting things done. Thanks April :)
Maybe it was because it was a "BIG" favor asked. Maybe I felt challenged to find "a way to get it done." Actually, it was probably the smiley face…I picked up the phone.
I don't know about you but I find it easier to ask a favor on behalf of someone else than it is to ask for myself. I called Kelly Ronalds at the Historic Hotel Bethlehem and pitched the idea of the hotel sponsoring the decorations. I knew I wouldn't get an immediate reply but she thought the idea was great! They just needed to check the availability of their decorator.
After phone calls and a visit to the site their decorator returned with the beautiful wreath, tree and swags pictured. The hotel itself always looks especially grand all dressed up for the holidays so I had no doubt the Welcome Center would shine too.
I'm guessing many of you will be zipping to (or through) New Jersey on I-78 in the coming weeks on your way to visit friends and family. If you get a chance, stop in on your way back into Lehigh Valley. Stretch your legs, say hello to Johnnie, April and Kathy and make sure to check out the beautiful decorations generously provided by the Historic Hotel Bethlehem.
While you're at it, make a point to visit the hotel itself. Nothing will get you in the holiday spirit more than experiencing their top-notch hospitality that, for now, extends well beyond Main Street Bethlehem.