I'll admit that I am not the biggest hockey fan, but I'm also not a bandwagon Johnny come lately, either. I watch the NHL playoffs every year. I don't have a team, but I really do enjoy the sport. What does this all mean? It means that TV hockey, even if it's the NHL playoffs, can't hold a candle to the real thing!
Being there you get to see the line changes, all of the movement and set up for offensive and defensive plays that you don't see on TV, because the camera is just following the puck. And then there is the noise, when a shot misses the net and hits the plexiglass it's louder than you're expecting if you've never seen it in person.
Oh, and one other thing, which is probably the most important ... there is no bad seat for hockey in the PPL Center. Seriously! I walked around and played with the angles and sight lines, but you can't find a bad seat. This is very similar to Coca-Cola Park where the Lehigh Valley IronPigs play baseball each season. Another similarity to the IronPigs is the way the Phantoms entertain the crowd between periods or during breaks in the action. This truly is a family-friendly hockey venue.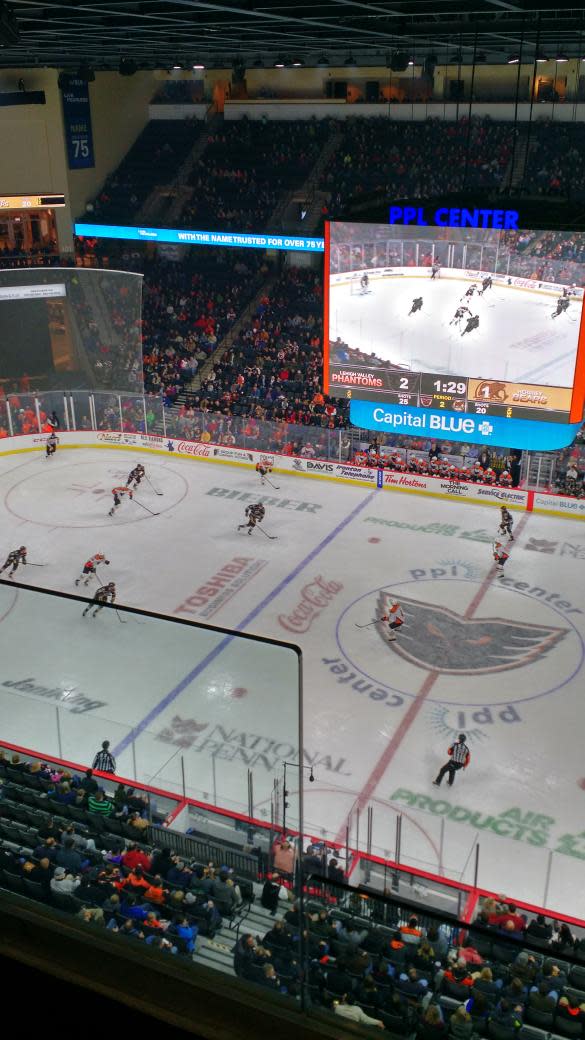 But back to the action last night, the Phantoms led 2-0 after the first period and then 2-1 after the second, but it was tied in the third, where the new AHL overtime rules went into effect. Those new overtime rules breakdown like this:
The sudden death (first to score wins) overtime is seven minutes in length. Playing at a modified full strength 4-on-4 until the first whistle following three minutes of play (around the four-minute mark), when the modified full strength will be further reduced to 3-on-3. If the game is still tied, a winner will be determined by a three-player shootout.
Last night, there was a little confusion after Phantom's Goalie Zepp stoned all three Hershey Bears shots in the shootout, yet there was no wave of elation just silence until it was announced the game was over and the Phantoms had won!
Regardless, the baseball fervor that existed before the IronPigs only grew once they yelled "Play Ball" at Coca-Cola Park, and I'm expecting the same for hockey with the Phantoms even though the puck only dropped for the first time, not too long ago.
Have you experienced "Hockey Night" in Allentown?