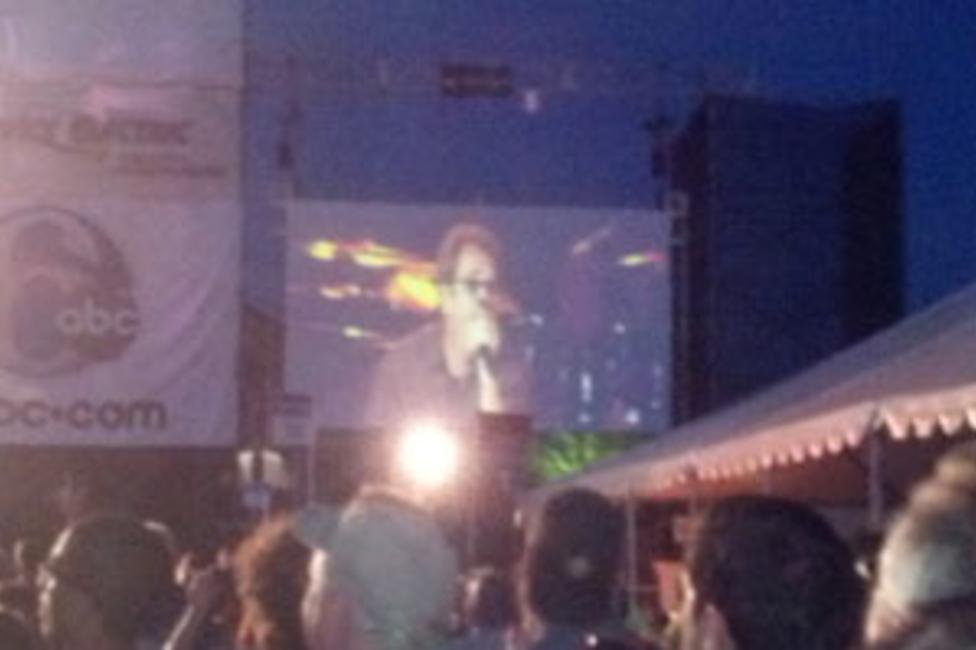 About a zillion years ago (ok, more like 25) a friend of mine who moved back to New York called to say he broke up with his girlfriend and had an extra ticket to see Huey Lewis and The News. The show was great but the venue was overcrowded, smoky, and so hot I thought I'd faint.
Flash forward to Monday night when I was holding my tickets to see them again along with Joe Cocker at Musikfest's Main Stage. My friend Linda and I picked up a quick corned beef sandwich on marbled rye for dinner from the Mike & Ike Bistro which was delicious. Neither of us are beer drinkers, so we drank wine in our traditional Musikfest mugs.
Huey Lewis performed first and sounded exactly as I remembered him. The News, 11 in number, delivered an impressively strong sound. When introducing the band, he noted that one of them from San Francisco "knows the Golden Gate Bridge is made from Bethlehem Steel" which made the crowd go wild. He also asked who in the audience had seen them in concert before. A surprisingly small number joined me in raising their hands. I'll bet the first timers started the standing ovation they received.
Joe Cocker, now 68 is amazingly energetic. Not that I don't know plenty of sixty-somethings who act like they are still in their twenties, but the tour came to Lehigh Valley after bouncing up and down the east coast with 5 gigs in 6 days. That kind of schedule would take a toll on anyone. I had never seen Joe perform live so I was glad I wasn't listening to some old has-been. His signature raspy voice seems even more authentic with age and the twitchy gestures I've always heard about indicated he puts his heart, soul and body into every song.
All in all we had a great evening. The weather was perfect, the venue even better, and the show phenomenal! I know a lot of you reading this are from outside the valley and some of you used to live here. We've been writing about Musikfest all week because it truly is well worth taking some vacation days and checking it out in person. Every first time "fest-er" I've met said they won't miss Musikfest again.
Everyone has their favorite "fest" experience. What's yours?
[youtube]http://www.youtube.com/watch?v=30r5ECzfYx0[/youtube]