By Josh Popichak
We all know the Lehigh Valley's historic inns, restaurants and pubs can be a great place to enjoy spirits (responsibly, of course), but did you know that more than a few of them are also reportedly home to spirits? Especially at this time of year, the talk at these historic "haunts" is known to turn not just to football, but also to the proverbial "things that go bump in the night."
I learned more about several of the Saucon Valley area's legendary haunted landmarks at a recent talk by local author/historian Karen Samuels, presented by the Lower Saucon Township Historical Society.
One of the well-known establishments Samuels highlighted during her talk is the former Spring Valley Inn in Upper Saucon Township, which reopened as Ye Olde Spring Valley Tavern over the summer. The rustic-looking building that houses the restaurant--which is famed for its trout ponds--dates from the early 1800s. But according to Samuels, it achieved perhaps its greatest notoriety during the Prohibition era, when its rural, off-the-beaten-path location made it a popular speakeasy. In the 1920s, trap doors were even used to conceal bootleg liquor from authorities, she said.
Samuels explained that the ghost who may call the tavern home today is reportedly that of a former owner, whose family operated the inn from the 1950s to the 1980s. She is by all accounts a friendly spirit who's been known to rub patrons' backs while they're drinking at the bar, so if you feel a friendly "nudge" the next time you're nursing a drink, don't be alarmed. It's likely that she's just trying to make you feel welcome, as she no doubt did for decades.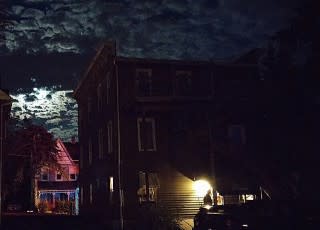 Another historic building that's known for a few spirits, not far from the Spring Valley Tavern, is the Belmont Inne on Old Philadelphia Pike in Lower Saucon Township. Over the years, patrons and employees at the historic, three-story Belmont have reported unusual goings-on that may involve guests from days gone by. Perhaps they simply don't want to leave...ever. But given the warm ambience of the place--which features an ornately-carved oak bar and woodwork throughout--I can't say I blame them.
From the Belmont, if you head east to Freemansburg you'll find the landmark Willow Grove Hotel, which was built during the Civil War era. An imposing building situated along the banks of the Lehigh Canal, the Willow Grove has gained a reputation over the years for being inhabited by at least one other-worldly guest--that of a little girl who looks like she's been burned. The girl has been known to pull on men's pant legs, according to the Tri-County Paranormal website, but Samuels stressed that "she's harmless."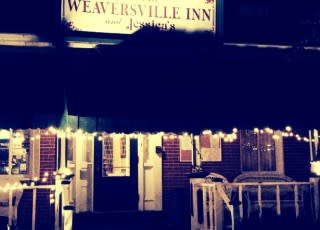 Lastly, there is the Weaversville Inn in East Allen Township. I have had the pleasure of dining at this historic establishment (which is also home to Jessica's Tea Room), but I got to experience it in a different light during a recent Ghost Hunt Tour I embarked on with Steel Street Tours and Paranormal Spirit Finders.
During our visit we conducted a paranormal investigation in the building's basement. The inn was built around 1835 on the site of a Colonia Era tavern, according to the inn's website, so it has a very long history. Although I personally didn't hear or see anything untoward while we were in the basement, I can attest to the fact that energy levels--as measured by the spirit finders--were high, and according to the inn's website, "the inn is...home to a few spirits," with many customers having "experienced a feeling of additional guests at their table." Anyone who visits the inn and has had a close encounter there is encouraged to share their experience.
A few other Lehigh Valley establishments that are said to be haunted, which you may want to add to your list to explore, are the former Eagle Hotel on Main Street in Hellertown (which is today Braveheart Highland Pub and Restaurant,) the Leithsville Inn and the Beethoven Waldheim Club, both of which are in Lower Saucon Township.
Whether or not you believe in the paranormal, all of these fine restaurants have fascinating histories and serve some great food. I hope you will consider visiting them and enjoying the kind of atmosphere that can only be developed over centuries.
Happy Halloween!
All Photos by Josh Popichak
Josh Popichak is an independent digital journalist who focuses his news coverage on the Saucon Valley. He has edited or written for several area print and online publications, including Hellertown-Lower Saucon Patch, The Bethlehem Press and the former Saucon News. His interests include history, politics, media, food and travel. A Bethlehem native, he lives in Fountain Hill with Ziggy, his cat. Follow him on Facebook (https://www.facebook.com/joshpopichak) and Twitter (@JoshPopichak).