Whether it's a factory tour experience or a glimpse into the past, there are many unique ways to experience products that are crafted here in Lehigh Valley. On your next visit, consider these locations for your group.
Start your day with a tour on the factory floor at C.F. Martin & Co. Based in Nazareth, you'll find some of the world's most famous are made by hand here. Start your tour in the Martin Museum to get a glimpse of how the instruments have changed over the course of time. You can also see custom models that have been specially made for famous musicians. As you make your way through the tour, you'll be escorted around the factory floor where you'll see craftsmen at work. Before you head out, be sure to stop by the Pickin' Parlor where you can play various models of famous Martin Guitars.
After your musical tour, head to Easton's Weyerbacher Brewing Company for a cold beverage. As the region's largest brewery, Weyerbacher's beers are known for their big, bold flavors. Enjoy a classic such as Blithering Idiot or Merry Monks, or sample something new that's available on draft. For a behind-the-scenes look at the brewing process, be sure to request a private group tour in advance.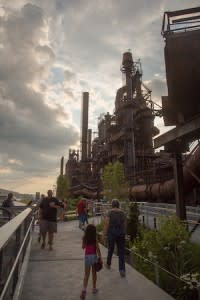 As the night winds up, treat your group to a show at SteelStacks. What once was the largest brownfield in the country, the Bethlehem Steel plant is now transformed into a vibrant arts & culture campus that holds events year round. You can enjoy special festivals like Musikfest, Oktoberfest and Christkindlmarkt or take in a show inside the Musikfest Cafe as part of ArtsQuest's regular programming. During summer months, make yourself comfortable outside to enjoy free performances as part of the Levitt Pavilion at SteelStacks lineup.
For a spectacular view of the blast furnaces of Bethlehem Steel, climb the Hoover Mason Trestle (accessible by stairs or elevator). As you stroll along this elevated walkway, you'll get a unique perspective of the key roles the steel plant played in American history.
To start planning your Lehigh Valley experience, contact the Discover Lehigh Valley team.