By Rebekah Drozd
This spring, when you're on your way to a Levitt Pavilion concert at ArtsQuest or an event at the Sands Bethlehem, take some time to discover the latest addition to the South Bethlehem Greenway.
The Greenway patio, located at the Bethlehem Skateplaza  entrance, is equipped with public restrooms, two water fountains, and a concession stand that's expected to open early June. Many residents are already going for walks, a run or a bike ride on the Greenway path. It's also a popular route that skateboarders and BMX riders use to get to the Skateplaza.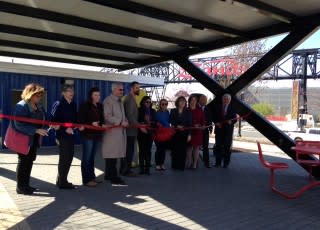 The patio officially opened April 25. The grand opening ceremony drew a notable gathering of city officials, board members and residents of the community.  Bethlehem Mayor Bob Donchez says the patio represents "a place where people from all walks of life can come, sit and rest, and socialize with one another."
Olga Negron, a community activist and Southside resident, explained how the patio adds a strong family dynamic to both the Greenway and Skateplaza. "Families can come with their little ones, enjoy a snack and watch their older ones ride their bikes or skateboards."
Contrary to popular belief, the "za," as the Skateplaza is affectionately known, is more than just a place where kids congregate. By the end of the day, you will find skaters and BMXers from high school and college students to professionals who work full-time jobs. On any given Saturday or Sunday morning, you might even find a parent teaching their son or daughter how to skate or ride a bike.
Regardless of your preferred sport, the Greenway and Skateplaza projects work well as complementary destinations.
"It's always good to see progress on the Greenway, because that shows us that the city cares about more open spaces for the community to use," says Andrew Po, owner of Homebase Skateshop.
Throughout the summer, Homebase hosts a series of events at the "za," which local residents can attend and now watch from the patio.
The Southside progress continues with the development of the Eastern Gateway. The project will expand the Greenway at Saucon Park Road, creating more new avenues for entertainment and transportation. "The expansion of the Greenway will continue to contribute to the Southside renaissance," says Sean Dooley, a member of the Eastern Gateway Committee.
The Lehigh Valley is famous for keeping its residents busy this time of year, especially in Bethlehem. Now, the Greenway makes it easier than ever for visitors to attend events on the Southside, such as Musikfest, Vegfest and First Fridays. Hope to see you there, and often!