Savvy Lehigh Valley brewmasters know that providing food options along with unique microbrews will encourage customers to linger longer at their establishments.While not all of Lehigh Valley's 20+ number of breweries have in-house kitchens, there are a few standouts detailed below. And just because a brewery doesn't have a kitchen doesn't mean you can't eat – many have robust food truck schedules or allow you to BYO-food! Check out our recommendations for snacks, sips, and specialties at these Lehigh Valley breweries. 
Breweries with Kitchens
Fegley's Brew Works (Locations in Allentown and Bethlehem)
Snack on: Bavarian pretzels with beer & cheese soup for dipping. There's no better marriage than beer and pretzels!
Sip on: Amber Lager for any time of the year, or seasonal releases like Clear Your Browser Winter Sour.
What's special? Full lunch and dinner menus at these family-owned establishments make it as known for food as it is its beer. Become part of their mug-club for a VIP experience.
Go there: 812 W. Hamilton St., Allentown, PA 18101 and 559 Main St. Suite 101, Bethlehem, PA 18018
Two Rivers Brewing Company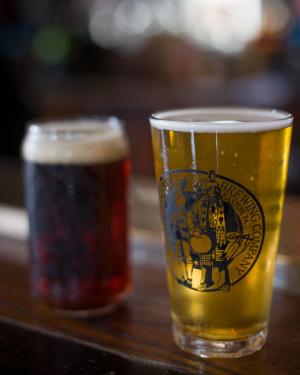 Snack on: Duck fat fries on their own, or on the side with a burger. Try their ever-changing French toast creations for brunch.
Sip on: Colonel Left Eye IPA or Pine Street Blonde plus many seasonal brews, which all have some local history behind their curious names. Beaglemania! Flying Camp Oatmeal Stout!
What's special? Located at what was the old Mt. Vernon Hotel, the structure dates back to the early 19th century. The Mt. Vernon served as a hotel, bar, and even a brothel through the years—under previous ownership, of course!
Go there: 542 Northampton St., Easton, PA 18042
Birthright Brewing Company
Snack on: Try a cheese & meat board or pickles to start. Then move onto their varying pizzas, with classics like margherita to something more creative, like the Trip in the Woods, with white sauce, mushrooms, and an egg.
Sip on: The Whitefield Belgian Wit is a nod to Nazareth's Whitefield house, or try new release, Gobstopper, a flavorful fruited ale.
What's special? Weekly menu changes (look for updates on Facebook) and family-friendly events and seating.  
Go there: 57 S. Main St., Nazareth, PA 18064
Bangor Trust Brewing
Snack on: The prosciutto e melone flatbread—that crust! Or try the mussels frites for a classic brasserie bite.
Sip on: Pig Earth, an English Mild Ale with high ratings on Untappd. For something lighter, opt for their Weizenheimer, a light hefeweizen.
What's special? Bangor Trust is also a top-notch bakery, which explains why you'll see bread incorporated into many menu items.
Go there: 15 Broadway, Bangor, PA 18013
Breweries without Kitchens
While you won't find in-house kitchens at the Lehigh Valley breweries listed below, you will find food trucks providing some tasty bites or breweries where you can BYO food. Check their websites for frequent food-truck schedule updates. 
Lost Tavern Brewery 
Music and food scheduled daily (Wednesday to Sunday). Food options vary from Old Pappy's BBQ and Randevoo Food truck to Cactus Blue and Take-A-Taco.
Go there: 782 Main St., Hellertown, PA 18055
Weyerbacher Brewing Company

Offering chips & dips (from Klein Farms) daily, and food trucks on most weekends, Weyerbacher knows you'll need some sustenance to hang with their powerful pints. On the weekends, you'll find the likes of Couch Pota-doh!, The Egg Truck, Gettin' Cheesy, and Brogies.
Go there: 905 Line St., Easton, PA 18042
Bonn Place Brewing Company 
At this Taylor Street brewery & taproom, it's not uncommon to see patrons huddled around pizza boxes from Lehigh Pizza. Feel free to bring your own snacks, or a whole dang pizza. On Wednesdays and Thursdays, the nearby Molinari's offers delivery of a limited menu.
Go there: 310 Taylor St Bethlehem, PA 18015
Funk Brewing Company 
Food trucks like Sticky Pig and Flying V roll up to this Emmaus brewery.
Go there: 19 S. Sixth St., Emmaus, PA 18049
Yergey Brewing Company 
Find a full schedule of food trucks for Thursday-Sunday at this "nano-brewery" located right next to Triple Sun Spirits.
Go there: 518 Bank St., Emmaus, PA 18049
HiJinx Brewing Company 
Food trucks on the weekends, with offerings from Cone Apetit, V&C Catering and Southside Eatz, and more. 
Go there: 905 Harrison St., Allentown, PA 18103

Did we miss any? Let us know your local favorites.