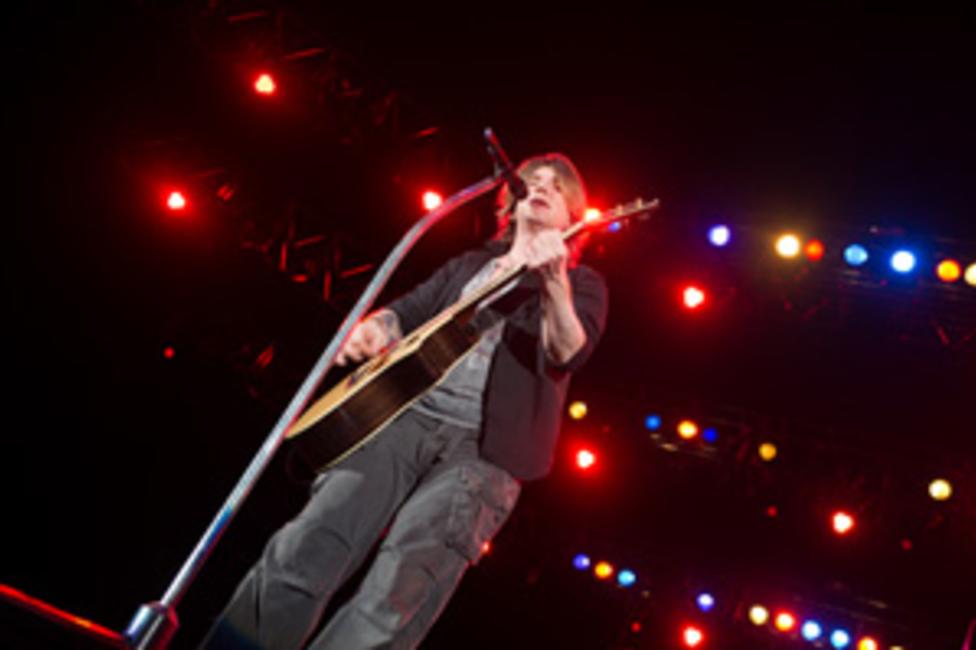 It was a comfortable 77 degrees and the perfect night to attend a show at Musikfest's premier venue, the Sands Steel Stage. Although I only knew a few songs off of the bands nine albums, I was still excited to see one of the fests' main acts, the Goo Goo Dolls. I was fortunate enough to get my hands on a press pass so I could shoot some rock images from the pit which added to my excitement.
Even though the band wasn't at the forefront of my mind, they still nearly packed the house, and at the opening of the set a flock of adoring fans rushed the stage to get a better view. A thin metal fence was the only thing separating me from a swarm of screaming fans most of which were female and for a few seconds I almost felt like a rockstar, until I got bumped by an unapologetic photographer in the pit with me franticly trying to get the perfect shot. Reality check... I only have three songs to shoot so ignore the mob of fans waving their glowing fest mugs and chanting every lyric and get some awesome shots.
After the first three songs I returned to my seats (of which there isn't a bad one in the house) and enjoyed the show like the rest of the concert goers from the other side of the pit wall... until we got permission to go back for one more song, Iris. Now, Iris is one of the four songs I knew from back in the day and this performance was  something special as they brought a completely unexpected special guest to the stage, 18 year old George Dennehy. What makes this teenager so special is that George was born with no arms, yet he can play the guitar with his feet far better than most can ever dream of doing with their hands.
[youtube]http://www.youtube.com/watch?v=AyIzAzmMyFk&feature=plcp[/youtube]
In an amazing story showing the power of social media, George posted a video of himself playing the bands most popular song on reddit where he quickly gained hundreds of thousands of likes in no time and caught the attention of the bands drummer. He was so impressed and moved, that he invited George to Musikfest to open for them and close with them. The entire crowd, myself included, was completely moved and totally humbled by the teens talent and ability to overcome adversity most could never cope with.
Thanks ArtsQuest and Musikfest for another great fest memory I'll never forget... next on my fest list, Janes Addiction! We'll be sure to tell you all about it right here on Lehigh Valley InSite!
Like George on facebook and see what all the hype is about!
Guest blogger Brian Wcislo, photographer at 4O1! Creative.