By Sarah Mason, Discover Lehigh Valley Intern
There's something pretty crazy about witnessing a man holding and playing a guitar that cost about as much as your college tuition. Though, this specific guitar is from C.F. Martin & Co and it has a lot of beautiful pearl in it and sounds amazing. It's beauty almost makes you think that it's not crazy that it costs about as much as your college tuition.
You can witness this beautiful guitar among other beauties by heading over to the Martin Guitar Factory located just north of downtown Nazareth, PA.
The small town of Nazareth is well known for this famous landmark. I play guitar and even own a Martin but have never stepped inside the factory. Recently, I decided it was time to get the inside scoop! So, I signed myself up for the free public tour.
Before the tour started our tour guide asked everyone in the tour group if they owned a Martin or played guitar, just about every hand was raised. People in the tour group came from close and far. Some were locals, while others were from Pittsburgh, New York and Scranton.
Whether you play guitar or not, this tour is for everyone who has an appreciation for finely made well... anything.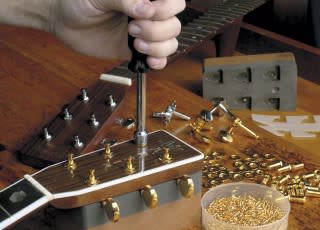 The tour consists of insight on C.F. Martin & Co. history as well as the art of guitar making, which you get to witness and see first hand. What really makes this tour so exciting is how industrial it is. You can see everything being made up close and personal. There is also something comforting to me to about being able to see people enjoy what they do as well as interacting with the tour guide to answer a question or so and saying hello to people passing by.
"I noticed everyone had a calendar at their workstation," someone in the group said to the tour guide.
I, too, noticed this. It was actually one of my favorite things about the tour. This is because I liked looking at everyone's workstation. I liked seeing how they decorated their station, from photos of family members to little knick knacks. This made the tour feel more personal from an outsider perspective looking in. You suddenly gained more of a respect for the labor that goes into making a masterpiece of a guitar.
To see all of this yourself, there are free public tours are available between 11:00 a.m. to 2:30 p.m., Monday through Friday on a first-come, first-serve basis.  The tour is about an hour long.
There is also a new Behind the Scenes Tour that cost $25.00 per person available Monday through Friday. It also includes a free gift at the end! The tour starts at 9:30 a.m. for groups of six or less adults, you must be 18 years of age and older.  The tour lasts approximately two hours and must be scheduled in advance.
At the end of your tour you can head over to the 1833 Shop, which is open from 8:30 a.m. to 5:00 p.m., Monday through Friday. The shop has apparel, accessories, books and stings.
The Martin Guitar Museum and Visitors Center is open from 8:00 a.m. to 5:00 p.m., Monday through Friday
You can also step foot in the Pickin' Parlor! This is a private room where you can play guitars that are high-end and limited editions.