One of America's classic love affairs is with the road. And even if that romance dims in the future, they'll always be a reminder of that time as long as the cars of yesteryear continue to be maintained and driven. In fact, in Lehigh Valley you can see them year round on the roads, but on one weekend in Macungie, there is a gathering that can take you back in history.
Das Awkscht Fescht is time travel without going 88! It's one of the largest antique and classic car shows in the country and it's right here in Lehigh Valley every year for the past 51 years!
And while you may in fact find a Delorean, it won't be Doc Brown's ... as your more likely to find classic corvette's and huge wing cars from the late '50s and early '60s. This year the featured car is the Chrysler 300, a two-door hardtop with a Hemi, that first hit the streets in 1955 and hasn't left them since.
If you're a ZZ Top fan, you know they're coming to Musikfest to rock the Sands Steel Stage Wednesday, August 12th, but you can probably take in a classic 1933 Ford similar to the Eliminator Car featured in ZZ Top music videos for "Gimme All Your Lovin'," "Sharp Dressed Man," and "Legs." I'm sure that if he could, Billy Gibbons would stop by, and he'd probably try to buy up the park! There's a Rocker with a Car Problem!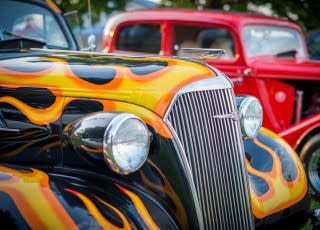 But, you don't need to have a car problem or addiction or even remotely be a "gearhead" to enjoy the 3,000 plus cars that pack into Macungie Memorial Park for Das Awkscht Fescht, this year running from July 31st thru August 2nd.
And it is more than just cars! Yes, this is a car show and yes there are cars, lots of them, but there are also Kids' Shows and Activities, classic festival food like cheesesteaks, fries, funnel cake, and more. There is music in the bandshell, open air markets and even a nearby public pool, plus Saturday night there will be fireworks!
So, now that I've painted a picture of Das Awkscht Fescht, I want to give you a few pointers to prepare you for the best possible time.
Wear a hat or bring an umbrella. It's easier to make your own shade and take it with you.
You may want to bring a camera ... a real camera. Some of these cars are works of art and legendary pieces of history. Sometimes your smartphone camera just isn't enough.
Sneakers are suggested. You will be walking around letting your eyes lead you from car to car. It would be best for you to be wearing something comfortable on your feet.
Go early ... stay late. Going early will allow you to see more cars, because many of the cars leave the show between 4 and 5 p.m. Staying late gives you the opportunity to see some local bands and eat dinner in classic Lehigh Valley festival style!
Two questions remain ... when are you going and what vehicle are you hoping to see?