For the past week or so I had a slight dilemma. Who would I ask to go to the George Thorogood concert with me? When our friend Ann called invite us to a picnic she mentioned she heard George and the Destroyers would be at Musikfest. Problem solved, she would join me.
Ann just lives about an hour away from Lehigh Valley in Lansdale, Montgomery County so I was shocked to hear she had never been to Musikfest before. Of course she had heard of it (it's only been around 30 years) but just never made it up. I couldn't wait to share the experience with her.
I made sure we had plenty of time before the concert start time to explore the festival on the north side of Bethlehem. With so many great food vendors, deciding where to eat was a tough decision. I left it up to Ann and she picked Take A Taco. Wise choice!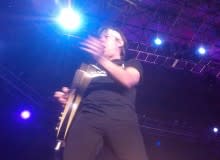 Bellies full we walked back to Shuttleplatz for our bus ride over to the Sands Steel Stage. I had to show off the Bethlehem Visitor Center at SteelStacks. Not only is it a cool building (the oldest on the whole site) but it has the best ever festival bathrooms.
Next I headed up to pick up official press passes while Ann checked out the opening act, Southside Johnny & The Asbury Jukes. I have to admit, I had a lot of fun hanging out with all the official photographers and no one made fun of me for only having my smart phone as a camera. We heard we would be allowed in the pit for the first two songs only, no flash, and had to sign another really confusing waiver/contract. One guy jokingly asked if he could consult his attorney first. I just hope I didn't sign over the deed to my house!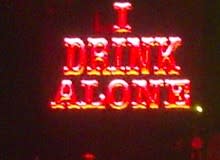 The concert was everything you'd want when seeing a performer you remember from 40 years ago. George, still fitting into skinny jeans, probably the same size as years back, wore the same baseball style Destroyers t-shirt you could buy as a souvenir. His voice and guitar belted out all his classic covers like "Who Do You Love", "I Drink Alone" and "House Rent Boogie" you know…the "One Bourbon, One Scotch, and One Beer" song. I especially liked when the 1980's videos we all remember from the early MTV years played on the screen during songs such as "Bad To The Bone".
A playful version of "Twenty Dollar Gig" was so genuine you know he remembers back to those days. It seemed to highlight how grateful he is for his present day audience who, like me, appreciated his performance on what turned out to be a gorgeous evening in Bethlehem.
Thank you George Throgood and the (Delaware) Destroyers, for bringing me back 30 years….if only for one night. Keep doing what you're doing!