I recently moved into a condo in Allentown.  Knowing that I was in need of both living room and bedroom furniture, I kept my eye out for special sales and savings. Over the Fourth of July weekend, I heard about a huge sale going on at Monarch Furniture in downtown Easton near Centre Square.
Being a huge supporter of local businesses, I was excited to stop in and explore their showroom.  I have to say, I could not have been more pleased with the quality of service and products on display, not to mention the 50 percent off sale on everything.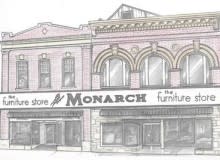 As a family owned and operated business, the owner's son, Anthony worked with me from start to finish to find me the perfect bedroom suit and even my mom got a new mattress.  During my visit, I also noticed a lot of out-of-town guests shopping. Monarch was happy to offer special delivery options or free shipping to everyone. Overall, I give them 5 stars for customer service and satisfaction.
After some hardcore furniture shopping, I realized I built up quite a hunger. About a half block away, sits Mesa Modern Mexican Restaurant.
I started off with their traditional Margarita which was incredibly refreshing and tasty on a warm summer day.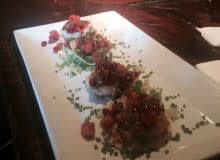 Mesa provided complimentary chips and salsa, which was a nice treat; however, my mom and I wanted more. We tried a few apps including the traditional guacamole and the scallop tostados which was the perfect combination of sweet and spicy. My favorite of the day was the beet and avocado salad. If you're looking for Mexican food, I would recommend Mesa anytime. I'm looking forward to trying their dinner entrees.
There are so many attractions and places to shop and dine in Easton. I can't wait to go back and check out more of the locally owned shops and new dining establishments.