Did you know that February 20 is a national holiday? No, it's not Snow Please Go Away Day, and it's not Where is Spring Day either. It is however, a major holiday for those who have a strong bond with their animals because it's National Love Your Pet Day.
Yes, there really is such a thing and I'm sure people go all out and get their pets funky clothes to wear, take them to spas for "peticures," buy them special treats and more.
If you're having trouble finding that special something for your pet don't fret, I have the perfect solution that will have the two of you being best buds "furever": Buy them a vacation!
That's right. Get away for a couple of days and take them with you by all means.
You may be thinking that sounds like a planning nightmare but, it's easier than you might think with the help of Traveling with your Pet, The AAA PetBook. The AAA PetBook is chockfull of useful tips to help you plan your getaway.
They list dog parks, emergency animal clinics, pet-friendly attractions, national public lands, border crossing procedures, policies on service animals and more.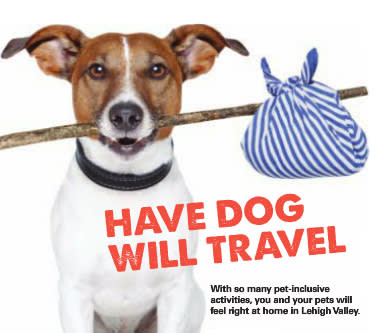 So, first things first, where are you going to head on your trip? While The PetBook has over 13,000 pet-friendly, AAA Approved hotels and campgrounds to choose from, I'm here to tell you that you should discover Lehigh Valley, Pennsylvania because the hotels and attractions in this region love pets!
So, just how pet-friendly is Lehigh Valley?
Well, you can check out the special page we created in the 2014 Official Visitors Guide for places to visit that also welcome your pet. You can also scan the QR codes on the page to watch short videos about some of the destinations you will find while you're here. If you are looking for the region's hotels and campgrounds that accept pets, visit our website which lists 29 places within the Allentown, Bethlehem and Easton area.
Now, there's no need to fear anymore when you're looking for places to shop, dine, roam or sleep in Lehigh Valley! It's the perfect spot for your next getaway with so many locations in the region.
Make your plans today. Your pet will love you for it. And, don't forget to snap those pictures while you're traveling to be entered to win the AAA Pet Photo Contest for your chance to win some cash and notoriety!