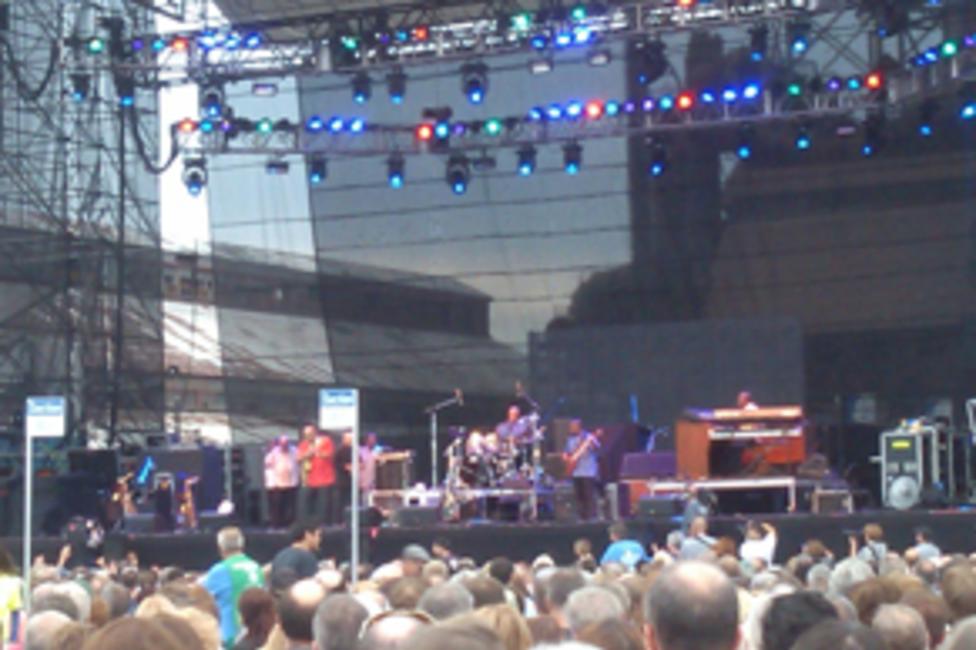 By Laura Eppler
The Monday night Musikfest concert, "Frampton's Guitar Circus" was aptly named. Each of the three groups displayed incredible mastery of the guitar, with artists working the instrument to its full capacity. They played with such well-developed expertise that the instrument seemed to be a part of them.
The venue couldn't have been more ideal. It was a perfect summer night and a well-conceived physical layout. The evening began with the slide guitar wizardry of Sonny Landreth. Landreth's focus on instrumentals was harmonically rich and melodic; the notes came together as a totality that far exceeded the sum of the parts.
B.B. King was up next, and was as much an entertainer as a musician. An incredibly vibrant 87-year-old, he joked with the audience and flirted with the ladies as he wooed them with his classic, The Thrill is Gone. His voice is still strong and his guitar expertise legendary. He could have shortened the repeated audience participation in singing, You are my Sunshine, but King is such a symbolic icon and genuinely sweet person that it was hard to do much besides smile and participate.
Sometimes concerts by artists that began their careers in the 1970s and 80s are disappointing; their voices are weak or they seem old and tired. The opposite was true of Peter Frampton. Frampton was fit and energetic, playing his guitar and belting out his songs with intensity. His lovely British accent and great smile didn't hurt either!
The classics were my favorites – "Show Me the Way", "Do You Feel Like I Do", and" Baby I Love Your Way" – sent me right back to junior high / high school summer parties. There were long instrumental interludes and a strong set including Vinnie Moore. Frampton clearly lost himself in these sessions, whaling on his guitar and smiling as if the audience were catching a secret glimpse of him jamming with friends in someone's basement. Personally, I enjoyed the songs more than the instrumentals. But the quality of his musicianship and the true passion he brought to the stage were incontrovertible.