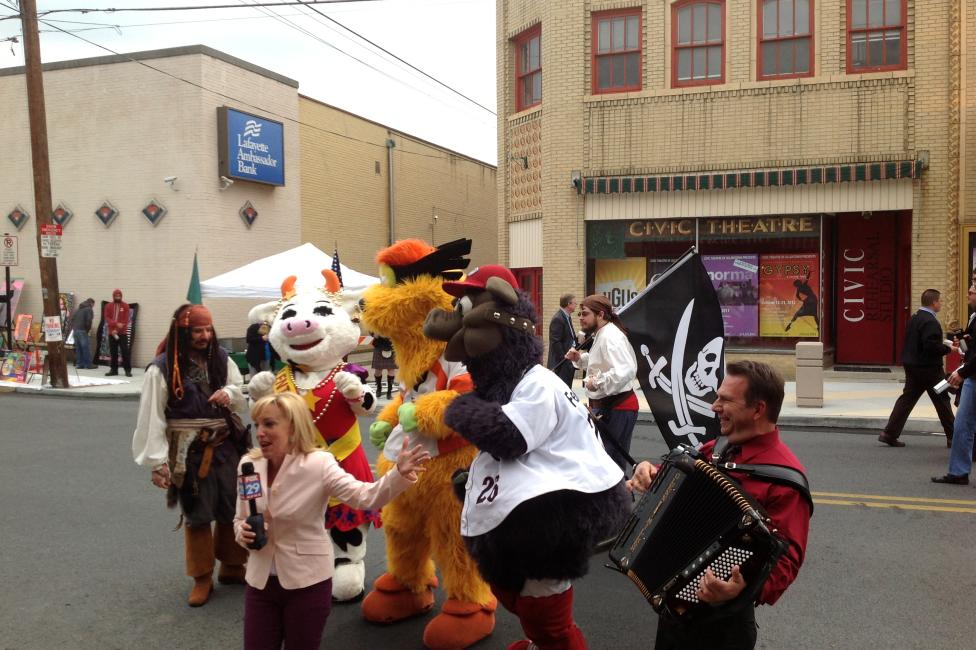 4:15am is no time to be awake. Even the birds don't start chirping until around 5:00am. But yesterday I found myself reaching for my alarm at that ungodly hour for a really fun reason. Philadelphia's Fox 29's Good Day morning show was broadcasting its "Jenny On Your Block" segment in Lehigh Valley, specifically Allentown.
When you get a phone call from a news reporter wanting to feature your area you could just recommend places they should visit, or you can coordinate a mini street fair to welcome them. Kim Lilly, our Executive VP contacted Mike Drabenstott of Allentown's West End Alliance and together they coordinated a very early morning celebration featuring Allentown's West End Theatre District.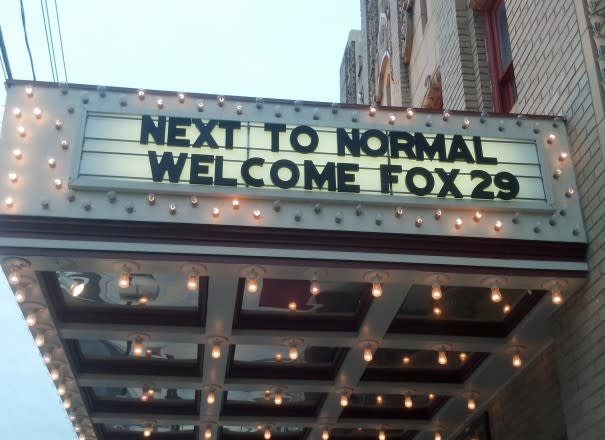 By 6:15am when the TV crew's truck pulled up 19th Street was blocked off between Liberty and Allen Streets, Civic Theatre was rolling out their red carpet, Trixie's Treats Truck was on site with their delicious cupcakes, coffee was brewing at Hava Java and even Boutique To Go was open with a welcome sign out.
Then the entertainment arrived. There were Pirates, a double string quartet from Allentown School District, bagpipers, Glenn Miller and his Big One Man Band, Lehigh Valley Steelhawk's "Precious Metals" dance team, and my favorite, local mascots!
[youtube]http://youtu.be/Owci0-pSuVI[/youtube]
I make a point of having my picture taken with every mascot I meet so I was thrilled to see Ferrous from the Lehigh Valley Iron Pigs, Moodonna from the Great Allentown Fair, Dax representing the Lehigh Valley Phantoms hockey team, and the Mule from Muhlenberg College. I even had my picture taken with the TD Bank mascot! (Special thanks to Civic 514 Black Box Theatre for opening up as a changing room for them)
When you're out and about that early you really work up an appetite…Kim and Mike had that covered too. In addition to cupcakes there was breakfast pizza from Ruffno's and breakfast sliders from Jack Callaghan's Ale House.
[caption id="attachment_15211" align="alignright" width="320"]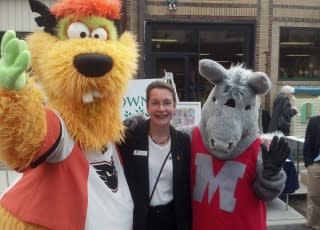 Dax, Nancy, and the Mule![/caption]
Jenny, a ball of energy obviously used to being up early was very impressed hearing from Mayor Ed Pawlowski about all the new developments in the city including the new hockey arena going up on Hamilton Street. When the short segments were done Jenny and her crew asked for suggestions on other Lehigh Valley locations for future shoots. I overheard Ryan, our Director of Marketing say "Be careful what you ask for"…we have plenty of locations to showcase in the valley!
Hats off to Kim and Mike who threw this early morning party showing off our region to our neighbors in Philadelphia, especially since it was rescheduled from the rainy Wednesday the week before.
What Lehigh Valley location would you recommend for a future "Jenny On The Block" segment?