For those of us locals who have ever been to the Lehigh Valley Mall, we are oh so familiar with the smells that permeate the air close to Macy's interior entrance. The smells wafting through the air are those of Dunderbak's. It's as if you were walking the streets of some quaint town in Germany with the music playing and the scents of their favorite traditions.
For this week's Foodie Friday in Lehigh Valley, I've had the opportunity to learn a little more about this established restaurant from William Baker, owner and Chef Dave Kempf. My suggestion to you is to get your holiday shopping list together and head out for some shopping, followed by a hearty meal at this local favorite, where every day is Oktoberfest!
Discover Lehigh Valley (DLV): How would you describe your cuisine?
Dunderbak's (DB): German/American
DLV: What are some dishes that best exemplify your cooking style?
DB: Soups, specialty sandwiches & German platters.
DLV: What are some of your favorite cooking ingredients?
DB: Ginger Snap Cookies for our special Sauerbraten Gravy.
Click here to read all about the Double Decker's at Dunderbak's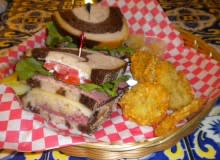 DLV: When did you first develop an interest in the culinary arts?
DB: As a teenager working at a resort.
DLV: What are your "tools of the trade"?
DB: Menu development
DLV: Who are some of your culinary influences?
DB: Foreign travel, food magazines and cooking shows.
DLV: What was your first job in the food service industry?
DB: Buffet Boy at age 14 for .50/hr.
DLV: Do have any advice for aspiring chefs?
DB: You must work in the industry before investing in formal training.
DLV: Where did the name of your restaurant come from?
DB: A campfire song about Mr. Dunderbak's and his sausage making machine.
DLV: Did you have formal training or "hard knocks" university?
DB: "Hard Knocks" from age 14.
DLV: Who are your mentors? DB: The Heinze family, owners of Allenberry Resort.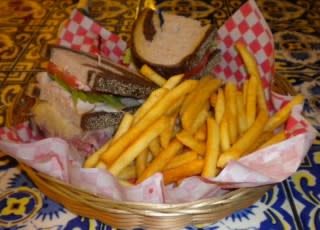 DLV: What is the top selling item on your breakfast, lunch and dinner menus?
DB: Bavarian Mushroom Soup, Reuben Sandwich, Sauerbraten and Schnitzle.
DLV: What year was your restaurant established?
DB: 1977
DLV: What do you feel sets you apart from other local restaurants?
DB: Our menu, décor, and the Polka music that is played.
DLV: Besides your restaurant, what is your favorite Lehigh Valley restaurant?
DB: Manor House Inn, Grille 3501, and Marblehead Chowder House.
Dunderbak's 121 Lehigh Valley Mall Whitehall, PA 18052 610-264-4962 www.dunderbak.com
Cuisine type: German/American
Hours of operation: Mon.-Sat: 11am-8:30 pm. Sun: 11am-6pm
Average price range: Same Menu all day: Prices range from $7.89 - $15.89
Number of seats: 155 Children's menu? Yes Alcohol available? Yes, 12 taps and 100 imported bottled beers
Handicapped accessible? Yes
Take-out service? Yes Wi-Fi accessible? Yes Credit cards accepted? Yes