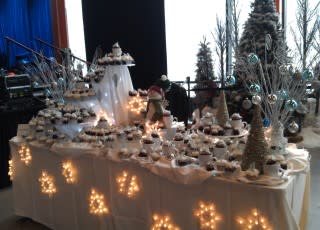 Sometimes things just roll the right way and you get lucky in life. That happened to me just last week as I was chosen to be one of the four official judges (there was also the "People's Choice Awards") to cast my vote on the "Best Frosting," "Best Cake," "Best Decoration," and "Best Overall Combo" at the Inaugural ArtsQuest™ Cupcake Bowl. I do have a background in judging food competitions and competing in cake decorating contests, and I have a degree from the Culinary Institute of America which kind of gives me the chops to judge this event, but I have never done cupcakes before. I'm also a super huge fan of Cupcake Wars, well anything on the Food Network or Cooking Channel for that matter.
So, the morning of December 29, I prepped my stomach with a banana and water and headed to ArtsQuest Center at SteelStacks along with 425 others, to this sold-out event. There were 15 Lehigh Valley bakeries that participated with some entering three selections. All-in-all there were 39 cupcakes to try! Ahhhh ... bliss AND sugar high AND then crash AND burn.
So, here's the rundown on what I got to try:
Amy's Sweets & Treats: Gingerbread cupcake with cinnamon cream cheese frosting; Luca B chocolate cake with marshmallow & caramel center topped with chocolate & vanilla buttercream; Jerry Lee chocolate cake with cookie dough center topped with peanut butter frosting
Antonella's Bakery: Tiramisu; Butter Pecan
Cathy's Creative Catering & Café: Berry Dream; Christ"mint" Delight
Cesy's Cupcakery: Snickers Dark; Chocolate Addict; Night Snack
Cuddles' Cupcake Bar: Cheers to the New Year; Wintery Decadence; Brainteaser
Delightful Designs: Almond Coconut D-Light; Tres Leches Crème D-Light; Strawberry Sweet D-Light
Granny Schmidt's Bake Shop: Chocolate Salted Caramel; Vanilla Half-Baked; Granny's Tipsy
Iron Lakes Country Club: Peppermint Tres Leche
Kym's Creations Bakery: Vanilla and Chocolate (unsure of names)
Lehigh Catering: Hot Chocolate; Pumpkin Torte; Fire and Ice
Louie's Bakery: Hot Chocolate; Coconut Cream
Rodale Catering & Events: Harvest Cake with Pear Buttercream; Ancho Devil's Food Cake with Blood Orange Buttercream
Sugar So Sweet: Dark Chocolate Banana; Ginger Spiced Vanilla; Coconut Pecan
The Flour Shop Bakery: Salty Turtle; Waffle House; Sour Cream Apple Pie
Trixie's Treats: Warm Sugar Cookie; Banana Fluffernutter; French Toast with Candied Bacon
Official judges awards went to:
"Best Frosting" – Luca B from Amy's Sweets & Treats
"Best Cake" – Pumpkin Torte from Lehigh Catering
"Best Decoration" – Banana Fluffernutter from Trixie's Treats
"Best Overall Combo" – Butter Pecan from Antonella's Bakery
People's Choice awards went to:
1st Place – Hot Chocolate from Louie's Bakery
Runner-up – Jerry Lee from Amy's Sweets & Treats
I would highly recommend most of the cupcakes on this list! There were a few surprises such as the one topped with fried chicken (Cesy's) and the after-kick from the chilis in the cake from Rodale. Some of the cupcakes were too sweet, some too dry, but overall what's not to love about dessert? A few of my favorites that didn't win were the Tiramisu from Antonella's and the Coconut Cream from Louie's.
This event was a benefit for ArtsQuest's arts education programming fund and helped raise more than $10,000 for the nonprofit's arts education and outreach programs in the community. Do you think you would have had the chops to judge all 39 cupcakes? I know I can't wait for their Souper Bowl at the end of the month! Get your tickets now before they sell out.