Tucked into the historic Centre Square region of downtown Easton, you'll find a unique venue offering stunning meeting spaces and luxurious accommodations.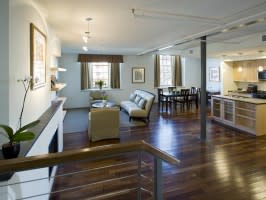 The Grand Eastonian Hotel & Suites has been a mainstay in the Lehigh Valley community since 1927. But this isn't your typical overnight stay. Here, you'll find unique one and two bedroom suites constructed in loft style and featuring hardwood floors, marble bathrooms, and beautiful exposed beams.
The hotel offers many of the same amenities that you'd expect at a luxury property including free wifi, an indoor pool, complimentary breakfast, and more.
For an inside look at the available on-site meeting space, check out this episode of Meet in Lehigh Valley.