On the hunt for a space big enough to customize to your needs? The Agri~Plex at Allentown Fairgrounds fits the bill.
Agri~Plex is noted as one of the largest available rental facilities in the region, and can be divided in a number of ways. Charles Hall boasts 19,000 square feet of flexible space, while Harris Hall features 40,000 square feet of useable space. In need of even more room? The full hall (at 59,000 square feet) can also be reserved.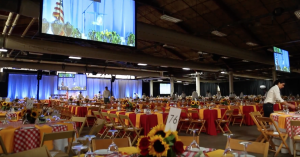 This venue plays host to much more than your standard board meeting. You'll find everything from cooking competitions during the Great Allentown Fair to gigantic yard sales, craft festivals, and more. In fact, this space played host for one of the largest events during the Buick Club of America's 50th Anniversary Celebration in the summer of 2016.
Explore the size and flexibility that Agri~Plex has to offer in this episode of Meet in Lehigh Valley. For more details on how to book this venue for your next event, contact our team.