The city of Easton highlights America's golden age of canals with Hugh Moore Park's picturesque National Canal Museum. A tour along the two-mile restored Lehigh Canal makes the perfect activity for groups of any age. Visitors can listen to the tales of the olden days on the Lehigh River, visit one of the few remaining locktender's houses, bike the lovely Delaware & Lehigh National Heritage trail, enjoy a picnic lunch or bring your binoculars and take a bird walk.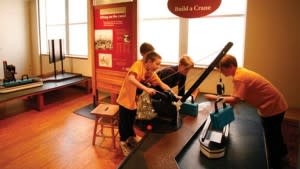 Not only can guests explore one of country's largest canal heritage museums, they can take a step back in time by riding one of the country's only mule-drawn canal boat rides. The 520-acre park nestled between the Lehigh Canal and Lehigh River is a throwback to the years when mules pulling canal boats on narrow towpaths was a common sight in much of the United States east of the Mississippi River. Enjoy a leisurely ride on the Josiah White II canal boat as you take in the scenery around you. And, make sure you say hello to Hank and George, the canal boat mules. 
Want to learn more? Contact the Discover Lehigh Valley team to get started.