Looking for a unique venue to host your next event? Consider Allentown's America On Wheels Museum. Tucked just minutes away from the city's bustling central downtown, this museum offers unique meeting space to accommodate board meetings, but can also serve as a venue for receptions, luncheons, and more.
In total, the building incorporates 45,000 square feet of space between the exhibit halls, HubCap Café and more. Guests can explore the museum which showcases the history of over-ground transportation including antique cars, bicycles, buses, and more. Throughout the museum, you'll find interactive exhibits where you can climb into the driver's seat to experience cars first-hand, test your knowledge of various auto-related tools, and much more. Be sure to get a glimpse of the newly added vintage Mack Trucks, a company that is based here in Lehigh Valley. Be sure to grab an old-fashioned ice cream sundae at the 1950s-style HubCap Café  during your visit, complete with a jukebox packed with classic tunes.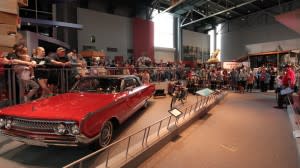 America On Wheels creates the ideal venue for your next event. The HubCap Café or Long Haul Rooms may be rented to accommodate approximately 90 people for sit-down meals or buffet-style dining. Or, opt for the Orientation Theatre if you have a smaller group. This space can accommodate 30 for sit-down meals or 50 for theatre-style events. The Orientation Theatre also offers A/V equipment to make a perfect setting for presentations. For reception-style events, consider the North Gallery which can accommodate up to 75.
For larger events, consider the full museum which includes access to the aforementioned spaces. Attendees are sure to love exploring the various exhibit spaces throughout the event. Admission to the museum is included for all guests.
For details on the America On Wheels Museum, contact our team.