Shakespeare! I know what comes to mind, Lehigh Valley, when old Billy's name is uttered. Old English words, phrases and stories we just don't understand. So imagine my surprise when I asked my eight year old son, Noah, if he'd like to go to the Pennsylvania
[caption id="attachment_20097" align="alignright" width="300"]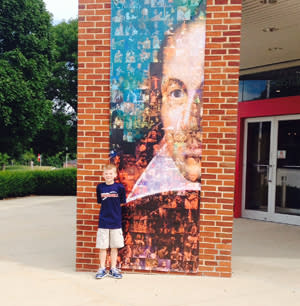 Noah & Bill[/caption]
Shakespeare Festival's Shakespeare for Kids presentation of Macbeth and he said sure dad.
I had the pleasure to attend last year's performance of The Taming of the Shrew with my nephew and once again the Shakespeare for Kids, affectionately known as S4K, cast did another remarkable job of capturing the essence of one of Shakespeare's most notable works.
In its sixth year, S4K designed to entertain children ages 4 - 10 and adults alike uses an unlikely cast of characters including kings, witches, dukes and even a mailman to tell the tragic tale of this Scottish play, with some kid-friendly twists.
Using creative and easy-to-understand language, songs, and puppets, the cast takes their audience on a one hour journey through Macbeth and his struggle to deal with ego and power and the consequences that result from his tyrannical behavior.
If you have attended in the past, don't worry, S4K offers new content yearly to keep things fresh and interesting. Pay particular attention to keep an ear open for the "Shakespeare Word of the Day," this is a hit with the kids.
S4K runs through August 2 so I encourage you to get there before the run ends, but definitely put it on the calendar for next year; I know Noah and I certainly will.
In closing I'd like to send a special thank you to the cast of Brandon Edward Burton, Andrew Goebel, Emily Humphreys, Leo Bond and Director of Marketing & Public Relations, Lisa Higgins, for the invitation. And more importantly, creating an enjoyable day between father and son. Though I may never meet the cast, just know your work is truly appreciated.
[caption id="attachment_20095" align="aligncenter" width="605"]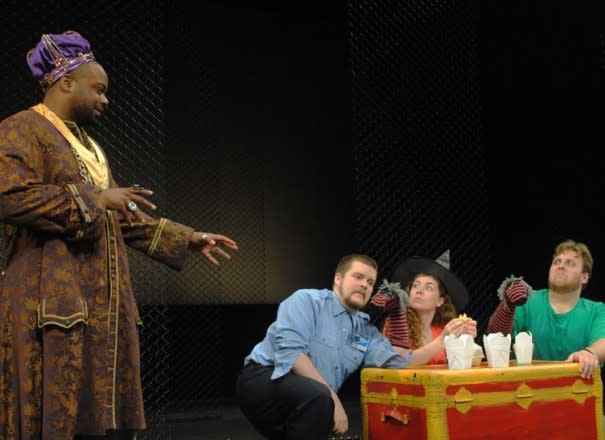 Ego & Power[/caption]