While most of my coworkers were out doing last minute holiday shopping during lunch hours last week, I treated myself to some fabulous meals at Lehigh Valley local restaurants.
Let's just say I'll be one of those ladies going back to the gym a few pounds heavier than I was on my last visit.
My first stop was in Easton. Any visit to Easton should be planned around a meal. There are so many tasty choices it is hard to pick one place, but I was on a mission to try one of their newest, 3rd & Ferry Fish Market.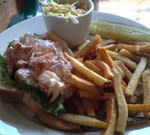 Rebecca & Mike from Vintage Restaurant at the Club at Morgan Hill opened this place too, so they really know what they are doing. Everything on the menu looked good but I couldn't resist ordering the lobster roll. I actually had to eat a good deal of the lobster with my fork before I could even pick it up. In a word, YUM!
My next adventure was an old favorite, Aladdin, in Allentown. I am sure all of their dishes are wonderful but I always order their kabobs.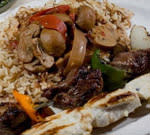 The meal comes with a salad so fresh and delicious it makes my mouth water just thinking about it. I ordered the lamb kabobs, as usual, because I love the way they are perfectly marinated and grilled. Even the rice with mushrooms that accompanies the dish has its own special flavor. I had to pop in the kitchen to say hello and thank you to Violette, the owner and chef at this family run restaurant.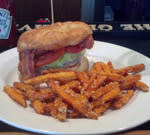 My last notable lunch was at Benner Street in Bethlehem. This is the rare eatery where Robert Irvine from Restaurant Impossible actually liked the food before the remodel. The changes he made to the decor really gave this place a fresh new feel. I wasn't sure what I wanted until I saw how their club sandwich was prepared.
The downside to ordering a club sandwich for me is the bread. Three slices is just too much. Benner Street serves their version on a flaky croissant. That coupled with really good sliced turkey, a generous amount of thick bacon, crispy lettuce and tomatoes made for a great meal. I opted for the sweet potato fries which were equally delicious and just seemed healthier.
Rereading this post made me realize how much extra time I'm going to have to spend on the treadmill, but you know what? It was worth every calorie!