I would live off pizza and Italian food if I could, and I'm not joking. Luckily for me, the Lehigh Valley has plenty of top-notch Italian restaurants and pizzerias that make me feel like I'm eating handmade pasta in Naples.
One of my favorite Italian restaurants is The Brick in Bethlehem, Pa. The family-run restaurant specializes in thin-crust wood-fired pizzas, leaving the crust with a wonderful charred finish. The Brick now serves brunch, adding unique Italian twists on typical brunch dishes. There's nothing like it in the Valley.
You can get the pizza cooked fresh for you in a variety of sizes, from the smaller 12" inch size to an 18" inch pie for the whole family. If you can't decide on a size, always remember the quote by Bill Murray: "Every pizza is a personal pizza if you try hard and believe in yourself." The Brick currently serves over 20 specialty flavors of the wood-fired pizzas. My personal favorite (I'm a cheese lover) is the Quattro Formaggio, which is a thin-crust pie with marinara sauce, home made fresh mozzarella, provolone, pecorino ramano and parmigiano reggiano. My guilty pleasure at The Brick is the penne vodka pizza. It's a pizza loaded with fresh penne vodka and mozzarella, what's not to love? You can even get a pizza on gluten-free crust, which is hard to find.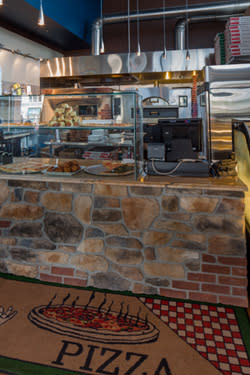 The Brick's menu is expansive, covering favorites like calzones, cheesesteaks, salads, paninis, a bruschetta bar and pasta dishes. Make sure you save room for the restaurant's most popular dessert, Nutella pizza topped with strawberries and bananas. It's served warm and literally melts in your mouth. The fresh fruit combo pairs well with the super thin crust and the classic hazelnut-chocolate flavor of Nutella.
Brunch is a growing trend, especially when paired with bottomless drinks. Enjoy a boozy brunch at The Brick on Sundays from 10-3. Try something new and get the Prima Colazione pizza, which has tomato sauce, Taylor ham, sunny side up eggs and fresh mozzarella cheese. You can add on bottomless Bloody Marys, Mimosas, Bellinis or Sangria. Sounds like my kind of brunch.
Check out The Brick's menu here and "like" them on Facebook to stay updated on daily specials.