The Lehigh Valley Wine Trail is home to select family-owned vineyards and wineries, and its members are committed to growing and producing premium wines. The wineries have brought home the Pennsylvania Governor's Cup 10 times and won numerous regional, state, national, and international awards, including many for wines made from the Chambourcin grape, the only wine grape grown by all nine wineries and the region's signature wine grape.
In Lehigh Valley, there are more than 40 acres of Chambourcin, which ferment into approximately 150,000 bottles of wine. Vintners craft this very versatile grape into several styles of wine, including Nouveau, Rosé, Semi-Sweet, Sweet, Dry Barrel Aged, Sparkling, and Port.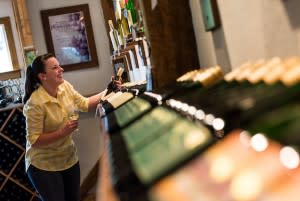 In April 2008, the region was designated as an American Viticultural Area (AVA), a huge distinction in the wine-making community. In order to receive the designation, at least 85 percent of the grapes used to make local wines must be grown within the region. Wineries in the region are then permitted to list Lehigh Valley as the growing region on their labels. Since receiving this designation, Lehigh Valley has been Pennsylvania's fastest-growing wine region.
The picturesque region provides an ideal backdrop, and the wineries' tranquil settings are the perfect environment for a girls' tour. So if you have a ladies' group that is looking for something a little different while craving a breathtaking ambience, they should definitely experience the Lehigh Valley Wine Trail.
There are many events that happen along the trail throughout the year, so be certain to visit LehighValleyWineTrail.com for the most up-to-date happenings.
Members of the Lehigh Valley Wine Trail:  Black River Farms, Blue Mountain Vineyards & Cellars, LTD., Franklin Hill Vineyards, Tolino Vineyards, and Vynecrest Vineyards & Winery.